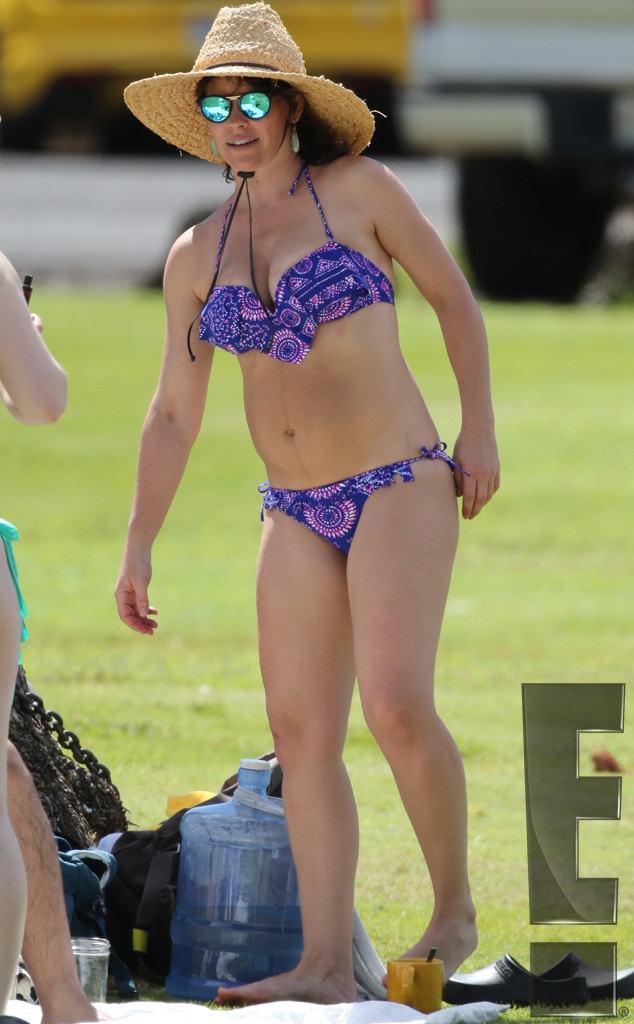 Splash News
Evangeline Lilly gave birth and she's already showing off her amazing post-baby bikini body!
While the Lost actress has yet to announce that she'd welcomed a new bundle of joy into the world, photos obtained exclusively by E! News appear to show that the actress is no longer pregnant and seemingly doing better than ever. The mother-of-two looked incredible soaking up some sunshine in a purple, floral two-piece bikini in Hawaii, while at a beach park in Kauai yesterday.
Lilly's rep was not immediately available for comment.
Lilly—who is already a mother to 4-year-old son, Kahekili, with partner Norman Kali—first confirmed her second pregnancy to E! News in June saying, "This is my second time around, and I find I've been pretty lucky. It's pretty straightforward, and I just love it. I feel good, I feel blissful."
Evangeline has often expressed her love motherhood, and it's likely that she'll keep expanding her family.
"What I wanted originally was six kids," she told Ocean Drive in a 2014 interview. "I frickin' love being pregnant. I'm one of the lucky women who just had a blissful pregnancy, but I wanted to adopt four."
She explained that motherhood has completely changed her perspective and her love for life.
"Becoming a mother has really helped me put my feet on the ground and given me a very powerful sense of self and a powerful sense of priority in life," she said. "All I have to do is see my son to do that mental check that says, 'Is this really important? Do you really need to be doing this? Do you really care?' It helps put everything in perspective when things get stressful or when there's a demand or pressure on me. At the end of the day, it's our family, it's being a mother and a partner and seeing love all around."
Congratulations to the happy mama on her growing family of four!
Watch:
Evangeline Lilly Reveals Due Date for Baby No. 2!