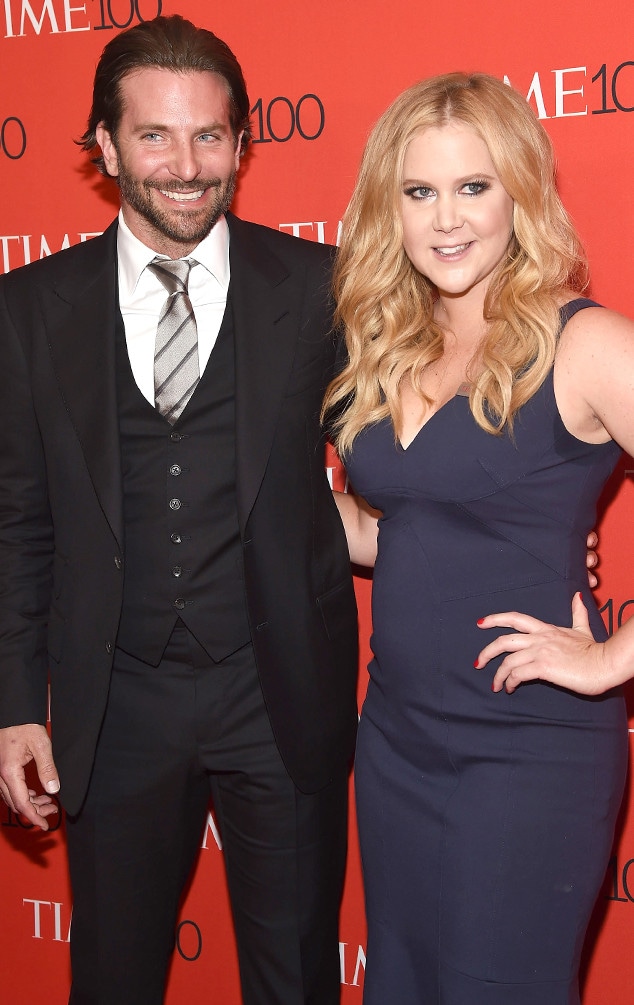 Gary Gershoff/WireImage
Did you hear about Amy Schumer and Bradley Cooper?
They're basically-but-not-really-just-kinda-maybe dating each other now. Well, that's the logical conclusion that the comedienne offered to Saturday Night Live viewers when she recalled hanging out with the blue-eyed hunk at the Time 100 Gala.
The two were deep in conversation, and apparently, Cooper didn't want Schumer to leave. "I don't know how Hollywood works, but I'm pretty sure that I'm dating Bradley Cooper," she told the audience.
So what does Cooper have to say about this budding (pseudo) romance? "[Schumer's] very attractive," Cooper told Howard Stern on Wednesday (via The Daily Beast).
The Oscar nominee admitted to watching Schumer's monologue on the hit NBC variety show after being alerted by his publicist, and explained what happened during their exchange.
"She wasn't [hitting on me] either. It's a bit. But I do remember her coming to sit down because we had an awkward exchange at the MTV Movie Awards where we didn't know each other, and she was sort of yelling my name and then I looked over and was like, 'Hey,' and then we talked. But at first, it was like, 'Who is this person screaming at me?'"
Cooper then jokingly confronted Schumer on a red carpet about it, and the banter continued. "So then I saw her at this [Time 100] event and she came over," he said. "All that stuff of her getting called and me saying no, no, no—that really happened. I thought I was getting a little creepy because I was making her stay."
The American Hustle star also addressed previous comments made about his former co-star Jennifer Lawrence (who also happens to be Schumer's gal-pal). Stern didn't hold anything back and point-blank asked, "When are you [and Jennifer Lawrence] going to have sex?"
Hold your horses, people. They're not talking about the actual no-pants dance. Stern was asking about onscreen sex.
Cooper had previously said that Lawrence was "too young" for him, which caused some confusion for people because his girlfriend at the time was 23-year-old model Suki Waterhouse, who is even younger than J.Law, but this is what he had to say about all that: "Never, I don't think," he said of onscreen sex with Lawrence.
"I said that [she's too young] once on the carpet just as a diffuse thing and it became a thing because the girl I was seeing was as young as she was…It just didn't happen. It's just not the way we are together."
Well, that will definitely make it less awkward for Schumer's romance with Cooper.