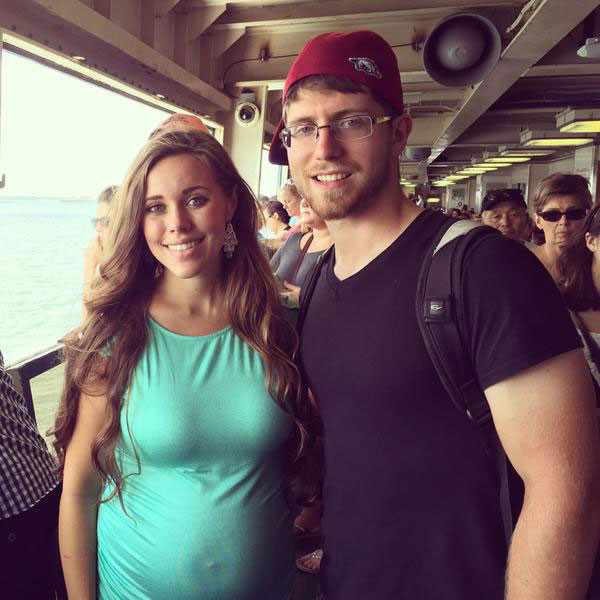 Twitter
UPDATE: Ben Seewald and Jessa Duggar just announced the name of their firstborn son: Spurgeon Elliot Seewald.
Both new parents have been open about wanting to take their time with naming their child, and it seems as though they've finally settled on an unforgettable (and unique) moniker.
________
It's one kid and counting for Jessa!
The 22-year-old former 19 Kids and Counting star and husband Ben, 20, have welcomed their first child, a baby boy, TLC confirmed to E! News. 
This is the sixth grandchild for her parents Michelle Duggar and Jim Bob Duggar, whose hit TLC reality show was canceled in July in wake of their eldest son Josh Duggar's molestation scandal, which addressed past incidents that had involved Jessa and sister Jill Duggar, 24.
Like her sister, Jessa documented her pregnancy and growing baby bump on Instagram. Two days before her due date, she posted a selfie and wrote, "39 weeks 4 days! Feeling as big as a barn, and soooo ready to meet my baby! #BabySeewald."
She and Seewald also encouraged their fans to guess online whether their baby is a boy or a girl (most people guessed girl) and vote on their favorite names.
In late October, Jessa posted on her page photos of her last days of pregnancy, which involved a coffee shop date with her mother-in-law and a pedicure.
Jill's pregnancy and birth of baby son Israel earlier this year was also documented on 19 Kids and Counting. Jessa announced her pregnancy in April, a month before the scandal erupted and three months before the show's cancellation. Jessa had said her due date was Nov. 1, her and Seewald's first wedding anniversary.
Jill, husband Derick Dillard, 26, and their child have been on a Christian mission for the past few months and have been living part time in Central America. Their journey and Jessa's marriage and pregnancy, as well as the sisters' perspectives on the aftermath of their family turmoil, will be shown on the new TLC spinoff, Jill & Jessa: Counting On, which is set to debut in December.
"Even with all the difficulties that my family has walked through, there's still a lot of exciting milestones ahead," Jessa said. 
People was the first to report the baby news.
Related:
How Many Kids Does Jill Duggar Want?