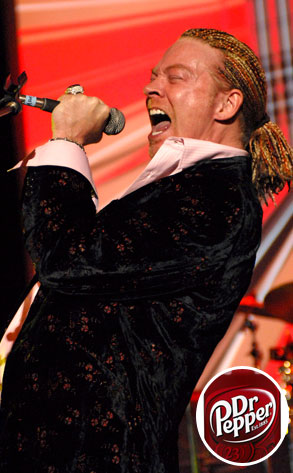 KMazur/Getty Images
All is fair in Chinese Democracy, except when the citizens are denied the opportunity to drink what the Dr ordered.
Axl Rose, wholely mum when Dr Pepper announced that it would bestow a free 20-ounce bottle to all Americans when Guns N' Roses' years-in-the-making album finally dropped, is taking the company to task via his attorney after learning that not all customers were served.
The soft-drink slinger had arranged to bestow online coupons to any thirsty freebie-seeker who visited its website on Nov. 23, but the site crashed due to...well, high traffic brought on by people's insatiable desire for free stuff.
The promotion was extended for another day, but the site was unreachable for most of it, per Rose.
And despite what surely is Rose's sympathy for those who have trouble meeting customer demand, his lawyer is calling the attention-getting ploy an "unmitigated disaster which defrauded customers."