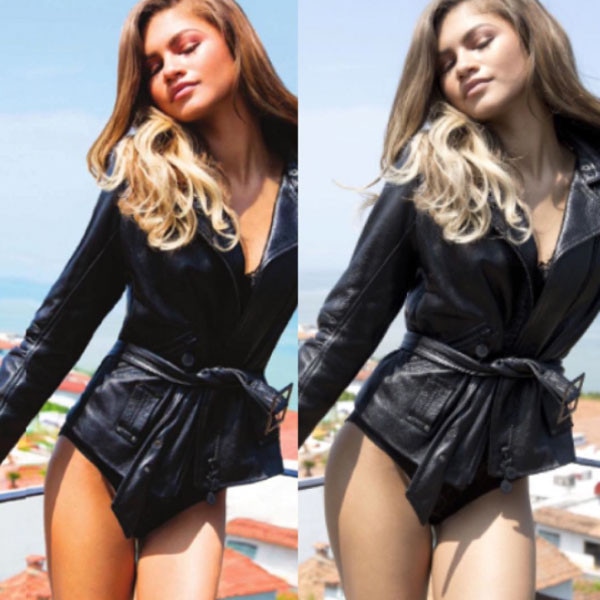 Instagram
Nothing gets by Zendaya.
The "Replay" singer is very upset with Modeliste magazine because the publication released images of her, but they weren't what they had originally shot during her photo shoot. Sadly, the magazine made Zendaya a victim of Photoshop, which is something the artist wouldn't stand for. Taking to Instagram to call out the magazine, Zendaya posted the "before" and "after" pics in a side-by-side comparison.
"Had a new shoot come out today and was shocked when I found my 19 year old hips and torso quite manipulated. These are the things that make women self conscious, that create the unrealistic ideals of beauty that we have," she wrote alongside her Instagram. "Anyone who knows who I am knows I stand for honest and pure self love. So I took it upon myself to release the real pic (right side) and I love it."
The magazine received her message loud and clear, so it removed the pictures.
"Thank you @modelistemagazine for pulling down the images and fixing this retouch issue," she ended her message. 
The growing fashion icon has never taken criticism lying down and often confronts those who dare to shame her or her family head on. At the end of the summer some Internet trolls mocked Zendaya's parents for being "ugly," so the Disney darling responded with a heartfelt defense.
"First I'm gonna pray for you," she wrote. "While you're so concerned about what my parents look like, please know that these are two of the most selfless people in the world. They have chosen to spend their entire life, not worried about trivial things such as looks and insulting people's parents on Twitter, but instead became educators who have dedicated their lives to teaching, cultivating and filling young shallow mind. (One of the most important yet underpaid jobs we have)."
She also defended YouTube makeup tutorial artist Shannon C. after someone shaded her for her bare-face appearance. A user by the name of @Manstogram shared a split image of Shannon with and without makeup on and captioned it, "This is why our first date is running a mile around the track to see if you sweat the makeup off."
Zendaya responded perfectly with her own makeup-free photo and wrote, "@Manstagram_ that awkward moment when this tweet is irrelevant cause she's slaying both ways #wannaborrowmyglasses."