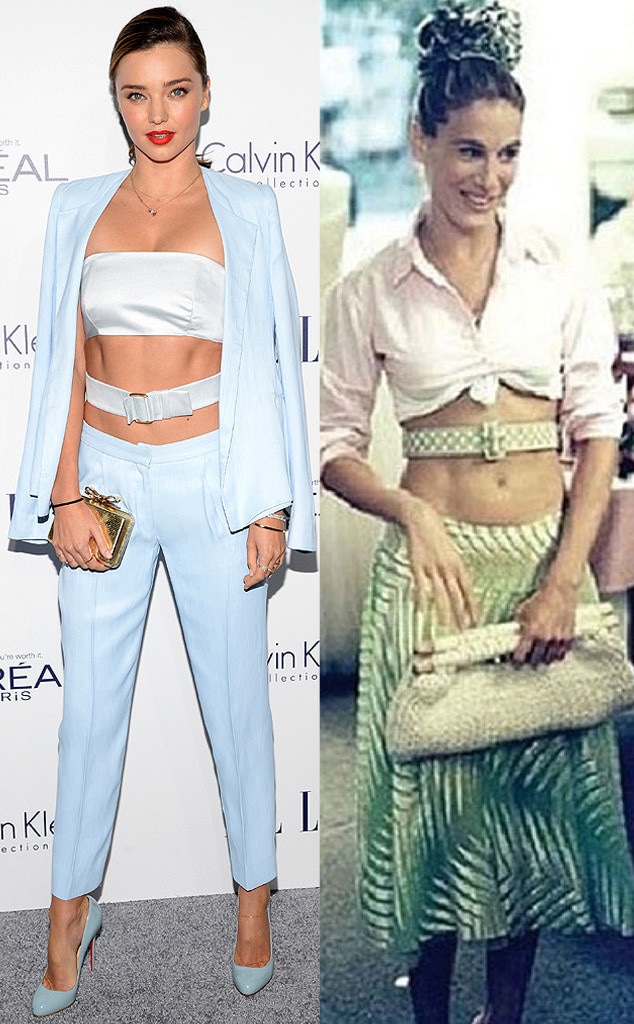 Michael Kovac/Getty Images for ELLE
Thought the midriff belt was something only Carrie Bradshaw could pull off? Wrong!
Miranda Kerr seemingly took a cue straight from the Sex and the City heroine herself for Elle's Women in Hollywood Awards, selecting a pale blue, tummy-baring Calvin Klein Collection suit for the occasion. But as you can already tell, it's not the crisp-cut nature of this tailored number that's got us thinking back to Carrie's wild style—it's the bare belly and belt combo. 
As the woman who brought the tutu back into high fashion, Carrie (AKA Sarah Jessica Parker) never backed down from an outlandish outfit pairing. Which is probably why we're still gushing over her looks more than a decade since the show has called it quits. So for those familiar with Sex and the City's daring fashions, all created by pro stylist Patricia Fields, this otherwise-wacky look made perfect sense for Carrie's always rock-hard silhouette and haute couture point of view. 
As for Miranda, well, the veteran Victoria's Secret Angel isn't shy exactly shy when it comes to sporting risqué attire—butt baring bodysuits, ultra-sexy gowns; you get the picture. As of late we've become more accustomed to her ladylike street style, which makes this daring Calvin Klein number seem like even more of a daring choice for the 32-year-old.
But hey—if you've got the abs for this style, why note show 'em off?