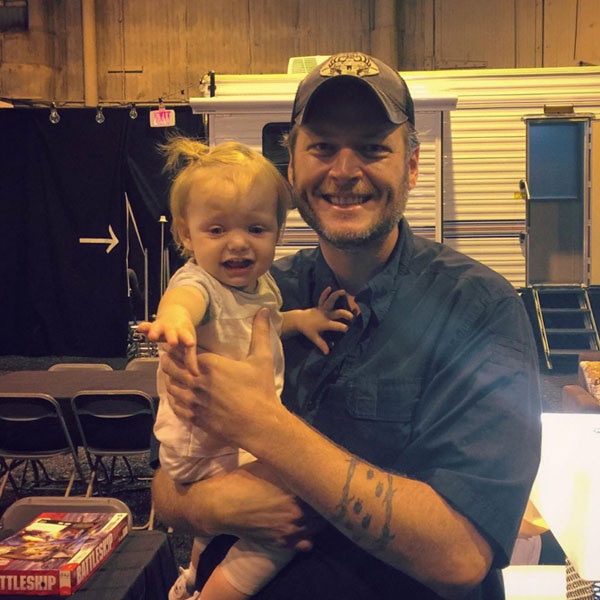 Instagram
Summer Rain Rutler, it is not nice to meet you.
Just kidding! Christina Aguilera's daughter spent some time with Blake Shelton Monday, but didn't look too happy to see the country crooner! Summer's dad and Christina's fiancé, Matthew Rutler, shared the hilarious picture on Instagram, captioning it, "Oh no, not Uncle Blake ahhhhh."
It looks like all the 1-year-old tot wants to do is be back in her daddy's arms. So cute! The "Genie in a Bottle" singer welcomed Summer Rain in Aug. 2014, and shortly after her arrival a source revealed to E! News the inspiration behind her daughter's moniker. "Christina wanted something different and unique for the baby's name," the insider said.
"She loves how Summer Rain Rutler flows together and thinks summer is an amazing time of the year. She has always been a more expressive person and a little bohemian who is inspired by words and daily life."
Denise Truscello / WireImage
Christina and Matthew celebrated their daughter's first birthday with adorable photos of their little girl wearing a pink outfit in honor of her big day. "Happy 1st birthday! My sweet, Summer Rain," the 34-year-old singer captioned the sweet birthday snapshot.
With her gorgeous baby blues on display, Summer Rain couldn't be any cuter.
Christina and Matthew got engaged on Valentine's Day in 2014 after a few years of dating, but they're not in any rush to officially tie the knot. "I want to plan it and cherish the moment, while not feeling rushed. So when the schedule is more clear and I can take some downtime again, I can focus on that," she revealed in February 2015.
"Our love is secure enough that we don't need a wedding to prove our love and commitment. We are enjoying our daughter, our family and our work for now."
After welcoming son Max Bratman with ex-husband Jordan Bratman seven years ago, the mom-of-two has figured out how to balance work and family so that she can enjoy life's exciting moments with her babies.
"Watching them grow is an incredible thing. I try to remember to cherish every moment, because I know it won't last forever. The pitter-patter of their little footsteps running down the halls, the way your heart just melts when they say in their tiny voices that they love you, and how their little toes and fingers are so small and kissable," the "What a Girl Wants" singer told People earlier this year.