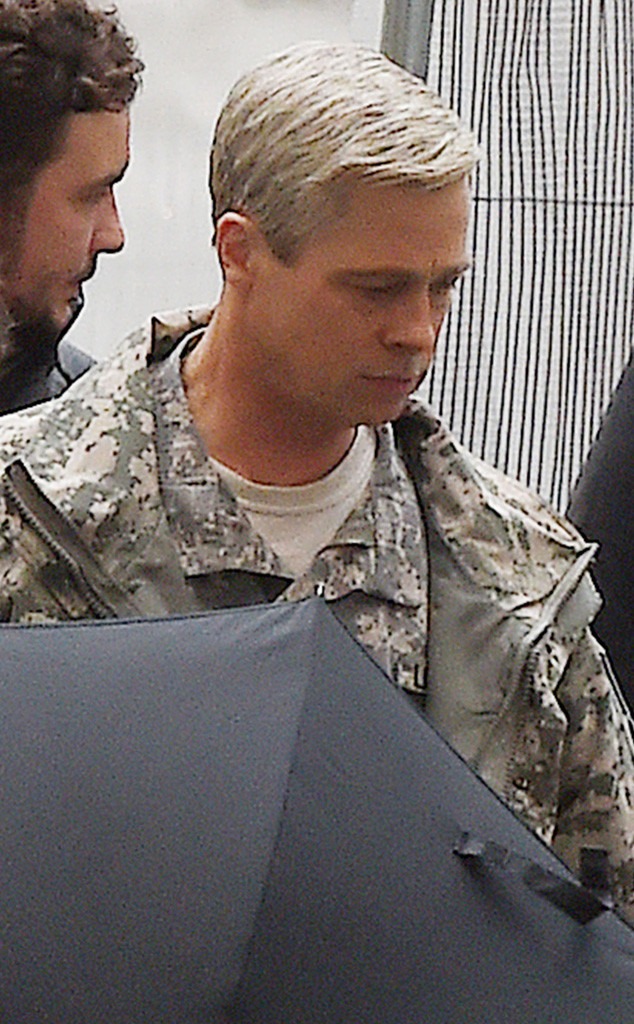 FameFlynet
Step aside George Clooney, Brad Pitt is our new favorite silver fox!
The 51-year-old was spotted on set in London on Wednesday with a grey hair while filming his new movie, War Machine. The actor got into character by sporting a rugged soldier look in grey army camos and combat boots to complement his new hair.
Pitt's character in the new Netflix satirical comedy is reportedly modeled after Stanley McChrystal, the controversial general who commanded U.S. armed forces in Afghanistan. The show is inspired by Michael Hastings' memoir The Operators: The Wild and Terrifying Inside Story of America's War in Afghanistan in which he recounts various stories from his experiences overseas.
Even while on set, the actor still makes time for his children with wife Angelina Jolie as his youngest ones, 7-year-old twins Knox and Vivienne, joined him for some quality daddy and me time.
As if we weren't going to watch it already, this glistening grey look definitely has us roped in to watch our favorite heartthrob in this Netflix original.
War Machine is one of several projects Pitt has coming up. In his next release, the Fury actor will act alongside Jolie in By the Sea set to hit theater Nov. 5. In addition to acting, Jolie also directed the film focused around the relationship issues couples face throughout their marriage. Though the two play a married couple, the Oscar-winning actress tells Vogue, "It's not autobiographical. Brad and I have our issues. But if the characters were even remotely close to our problems, we couldn't have made the film."