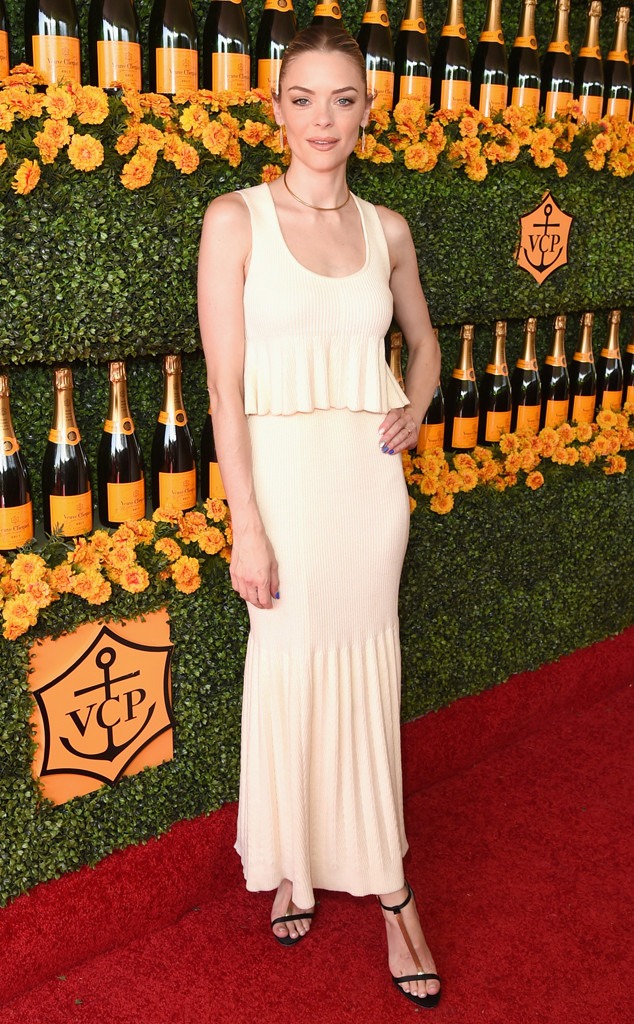 Jason Merritt/Getty Images for Veuve Clicquot
We'll come right out and say it: Jaime King might have the coolest friend group in Hollywood.
Recall she's BFFs with Taylor Swift, plus the rest of the #squadgoals bunch. As you're probably well aware, T.Swift is the godmother of her newborn son, Leo Thames Knight. And while she might've been caught up in a whirlwind international tour, nothing was going to stop her from stepping up to perform her bestie/god-mama duties for Jaime. Now that's a friendship goal, folks.
Also with Hailee Steinfeld, Diane Kruger and Seth Rogen as just a handful of her A-list buds, you know the gal's got some epic stories to dish—like for example, the awkward Halloween costume encounter that still makes her blush.
We caught up with Jaime at Maison Margiela's Smells Like Memories bash in Los Angeles, where she talked to E! News about T.Swift's unconventional (but totally perfect) godmother gift, her super awkward costume encounter at Rogen's annual Halloween bash and, yes, her always on-point style. Now go ahead—read on to hear from Jaime herself!
Did Taylor Swift give your son a godmother present (other than that amazing baby shower and then that onstage shout out)?
Her gift is her being-ness and her loving for him. It's the fact that she was in the middle of one of the biggest world tours in music history and took the time to come and be with us on several occasions. It's a really profound thing so many people would not do that, especially with the schedule she has where she barely has any time to breathe. Seemingly it's so effortless for her; she is a gift. Her being-ness is a gift.
Did Taylor ask you to be in the "Bad Blood" music video?
Originally the plan was for me to be in the video, and then when she became godmother she got really protective and was like "I don't want anything to happen to the baby!" Like what was I going to do, nun-chuck someone while I was pregnant? That wouldn't be cute. 
As her good friend, how do you react when you see T.Swift perform?
I can't control myself when I see her perform, she's so freaking amazing. I think that's why everybody loves her.
So how did you two meet?
We met at the Golden Globes through Hailee Steinfeld. She turned around and was like, "Hey do you want to hang out?," and I was like "Sure!" So we swapped numbers and then I went over and we had tea and a girl's night, and that was that.
With Halloween coming up, do you know how you're going to dress your boys yet?
I feel like it's obligatory that every child [i.e. Leo] should be a pumpkin when they're a baby, but my husband and I aren't sure. We still have to figure it out. 
Do you have a most-memorable Halloween costume yourself?
I remember going to Seth Rogen's Halloween party once, and it was like the year of Marie Antoinette. Everyone had these decadent costumes… and I dressed up like Peter Pan. All I had on was a pair of opaque green tights, shoes with bells and a felt costume with a felt hat. I had no makeup on and my hair was tied back in a bun. Then there were all these girls with their pearly, corseted bodies and these perfect wigs, and I was just chilling in the kitchen like "Hey guys, sup?" I honestly looked like the Jolly Green Giant and not Peter Pan. I legitimately looked like I could've been on a can of beans, but I was comfy so I wasn't mad at it. 
If you had to pick one, who's your biggest celebrity style icon?
Diane Kruger is my style sister. She's not only a dear friend, but if I have a style soul mate it's her. I would dress in exactly what she wears. I feel like we could trade dresses at every party and it'd work. We have the same exact taste and the same exact friends in style.
Michael Simon/startraksphoto.com
How would you describe your mommy street style?
I don't have any real rules. Whatever mood I wake up in I go with. I feel like for new moms it's about honoring your body. If you've just given birth that's a really big deal, so you want to look beautiful. Make sure you're wearing loose-fitting clothing and things that are accessible if you do choose to breastfeed. If not then you don't have to worry about that part.
Also, I'm all about essentials. For me it's like a pair of great jeans from Frame Denim or Mother, and I live in Wolford. So pretty much my day-to-day is like a Wolford bodysuit or anything from them is just so comfortable, chic and classic. Always know your staples so you know what looks good even when you're tired you can get up and throw something on. Also always take pictures of your outfits so you can remember what you liked.
What fashion and style advice do you swear by?
It's making sure no matter what, with any person, that you take risks. If you love fashion but are afraid of it, start off with a pair of socks or some simple accessory. If it's a leopard thing you really love—but you're afraid you won't look good in it—then put on a leopard scarf. You know, there are really fun ways to integrate fashion into your life that work for you. The more you take tiny little steps towards that, the more you'll feel comfortable and confident and start to make bolder fashion statements. 
How did growing up in Omaha affect your sense of style?
As a kid from Omaha that had no money to buy anything, I do have to say I'm really glad that I came from a lower middle class family because that really inspired me to think outside of the box with fashion. Because I didn't have the money to just buy what everyone was after, it really gave me my own sense of style. My mom was a seamstress, and she would make so many of my clothes. We would go to the fabric store and come up with ideas, and she would make my clothes. There were also amazing goodwill stores and vintage shops too, so I'd buy a slip dress for like 10 cents and put it over jeans. Then I went into fashion when I was older, and I saw everyone from Karl Lagerfeld to Alexander McQueen to all of the great designers literally make things on my bod. I just have an immense appreciation for the craft of making clothes; I love fashion. 
As for beauty, we know you're a huge fan of the Maison Margiela fragrances—but do you have a favorite?
I like them all but I haven't picked a favorite because my sense of smell is so off from the pregnancy. My hormones are still all wacked!
Watch:
Why Jaime King Chose Taylor Swift for Godmother!