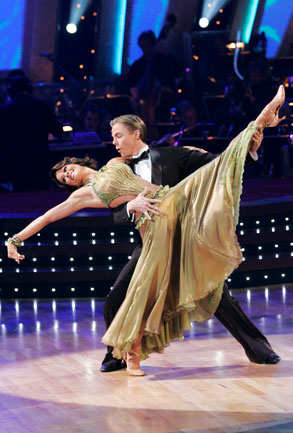 ABC/KELSEY McNEAL
Historic it wasn't. Effective it was.
ABC won Tuesday with the Brooke Burke-crowning Dancing With the Stars finale (20.6 million viewers, per Nielsen estimates) and the popcorn-popping A Charlie Brown Thanksgiving (11.1 million).
Overall, Dancing's audience was down about 4 million viewers from last fall's finale when Hélio Castroneves claimed the glitter ball
CBS' NCIS (18.2 million) was the most-watched show located outside of a ballroom. Fox's House (12.5 million) scored the most adults 18-49 of any non-jitterbugging entertainment.
The 9 p.m. hour marked another tug-of-war between Fox's Fringe and CBS' The Mentalist.