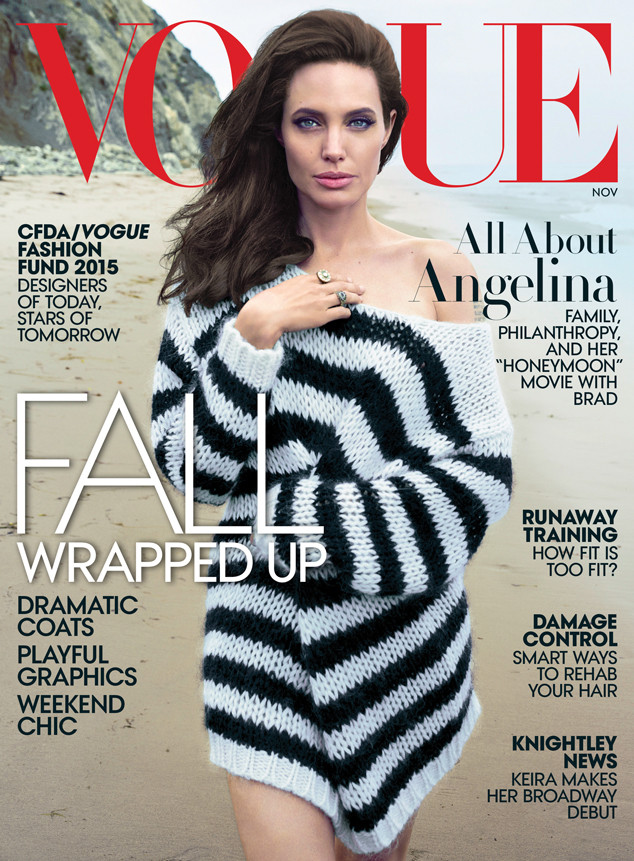 Annie Leibovitz/Vogue
Angelina Jolie and Brad Pitt's kids have made their Vogue debut.
In the pages of the magazine's November issue, on newsstands Wednesday, Angelina, 40, Brad, 51, and their children— Maddox Jolie-Pitt, 14, Pax Jolie-Pitt, 11 Zahara Jolie-Pitt, 10, Shiloh Jolie-Pitt, 9, Knox Jolie-Pitt, 7, and Vivienne Jolie-Pitt, 7—pose for photographer Annie Leibovitz in a stunning spread.
In the wide-ranging cover story, the director and star of Universal Pictures' By the Sea says the kids are home-schooled by teachers from different backgrounds and religions who speak different languages. "We travel often to Asia, Africa, Europe, where they were born," she says. "The boys [Maddox and Pax] know they're from Southeast Asia, and they have their food and their music and their friends, and they have a pride particular to them. But I want them to be just as interested in the history of their sisters' countries and mommy's country so we don't start dividing. Instead of taking Z on a special trip, we all go to Africa and we have a great time."
Angelina sees her children as global citizens.
In April, for example, she took Shiloh with her to meet refugees in Lebanon.
"When she was sitting on the floor with her UN cap writing her notes as she was talking to someone, I was flashing on myself 15 years ago and thinking, I know that moment," the UN Special Envoy says, later adding that not all of her children are interested in taking humanitarian trips. "The kids that don't want to go don't go."