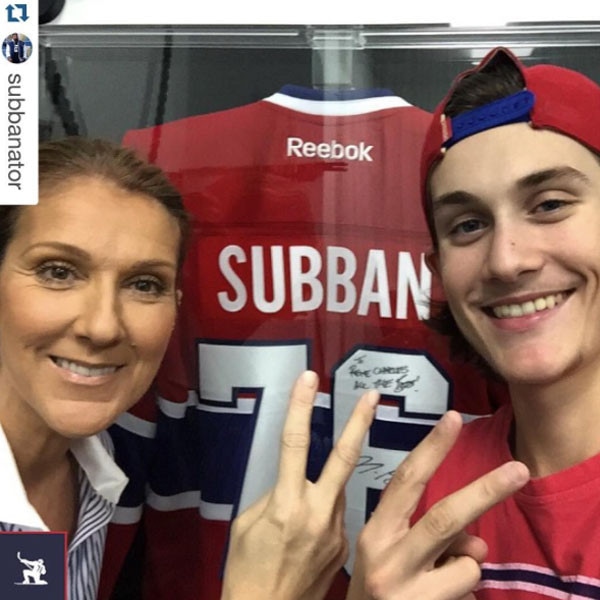 Instagram
One of Céline Dion's latest candid photos is totally jogging our memories. As the iconic songstress once sang, "It's all coming back to me now!"
The Grammy winner was photographed on Instagram in front of Canadian hockey player P.K. Saban's red jersey alongside a mystery man, the pair both holding up peace signs. But, who, you may ask, is this handsome gent? A fan? A model? A stranger? 
It's none other than Dion's 14-year-old son, René Charles Angélil, the child she named after her husband Rene Angélil on the day of his birth back in 2001. You know—that weird time when "tweet" meant a bird's chirp, President Barack Obama was just a professor at University of Chicago Law School, and Ryan Seacrest hadn't even made his debut on American Idol. 
This is one of the first times we've seen the young man since he was first introduced to the world as a child on the cover of Hello! Magazine next to his celebrity mom.
Clearly, a lot has changed in almost 15 years—for starters, Angélil now has an Instagram account and is sporting the beginnings of a mustache (!!!).
It's nice to see mom and son smiling after a particularly tough year for the family, including twin sons Eddy and Nelson, as Angélil Sr., 73, continues to battle throat cancer, a fight he's been having on and off since his first diagnosis in 1998.
PONOMAREFF/PONOPRESSE/Gamma-Rapho via Getty Images
While he has been on a feeding tube for the last two years, Dion recently revealed that his cancer is now terminal and  doctors "don't know" how long he has to live. 
"Sometimes he just wants me to enter into a different place with him," Dion described to USA Today. "I'll say, 'You're scared? I understand. Talk to me about it.' And René says to me, 'I want to die in your arms.' OK, fine, I'll be there, you'll die in my arms."
AP Photo/The Canadian Press, Ryan Remiorz)
Still, her husband urged her to return to Caesars Palace's Colosseum in Las Vegas and resume her residency. Dion said she wanted to return as a symbol to her ailing partner that while her heart is set on him, she can still go on.
"When you see someone who is fighting so hard, it has a big impact on you," she said. "You have two choices. You look at your husband who's very sick and you can't help, and it kills you. Or you look at your husband that's sick and you say, 'I got you. I got it. I'm here. It's going to be just fine.'"