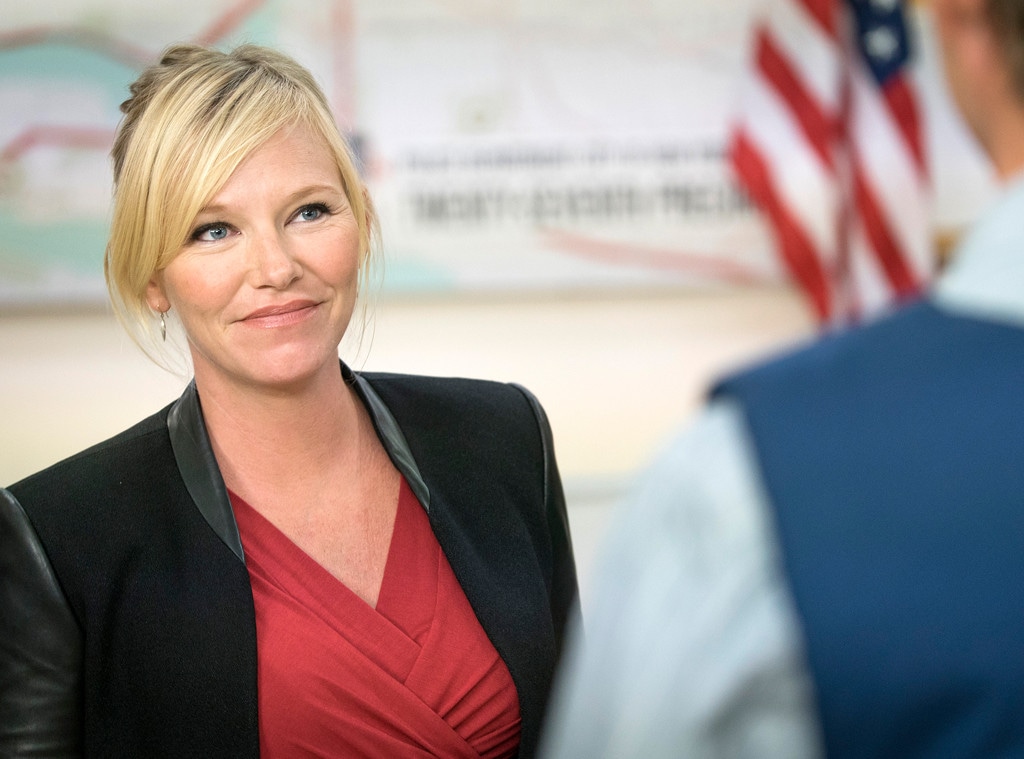 NBC
Law & Order: SVU has its finger on the pulse this season—from the upcoming Duggars episode to Robert Durst-inspired case and tonight's "Community Policing," where the SVU squad became entangled in the shooting of an unarmed man. There were twists and politics a-plenty, with ADA Barba (Raul Esparza) leading the charge to indict the cops (not any of the main SVU characters) who shot and killed the unarmed man who was fleeing from them. It was a poignant hour that left viewers with questions and thoughts—but one question was finally answered: Who is the father of Rollins' (Kelli Giddish). And it is…
Donal Logue's Lt. Declan Murphy!
While returning to the precinct, Rollins was stopped outside by Declan, who appeared out of nowhere and asked how far along she is.
"I'm 4,000 miles away in Serbia trying to take down a sex trafficking ring and I still heard about it," he said.
She's seven months pregnant on the show—in real life Giddish gave birth to a baby boy, Ludo—and confirmed that yes, the baby is his and a result of their weekend back in February. The weekend with the blizzard.
"When were you going to tell me darling?" he asked.
"Well, like you just said you were 4,000 miles away," Rollins said. "I didn't know how to get ahold of you."
"Fair enough. But I'm here now," he said. But for how long? He couldn't say.
"It's why I didn't bother you with it," she said. "You don't have time to worry about it…It's going to be OK. My mom's coming up. It's my decision. Don't worry—It's not your responsibility."
"But it is. We've got to talk. I'm not just going to walk away. You know that," he said, and gave Rollins his secret cell numbers. "You call that number I'm on a plane in an hour."
Rollins' mom is coming to town, played by Oscar nominee Virginia Madsen in next week's episode, "Maternal Instincts." In the episode, Madsen's Beth throws Rollins a baby shower while the SVU team investigates a rape. Evidence is soon discovered that leads the squad to Rollins' sister, Kim (Lindsay Pulsipher). Andy Karl makes his debut as Sgt. Mike Dodds in the episode.
Law & Order: SVU airs Wednesdays, 9 p.m. on NBC.
(E! and NBC are both part of the NBCUniversal family.)