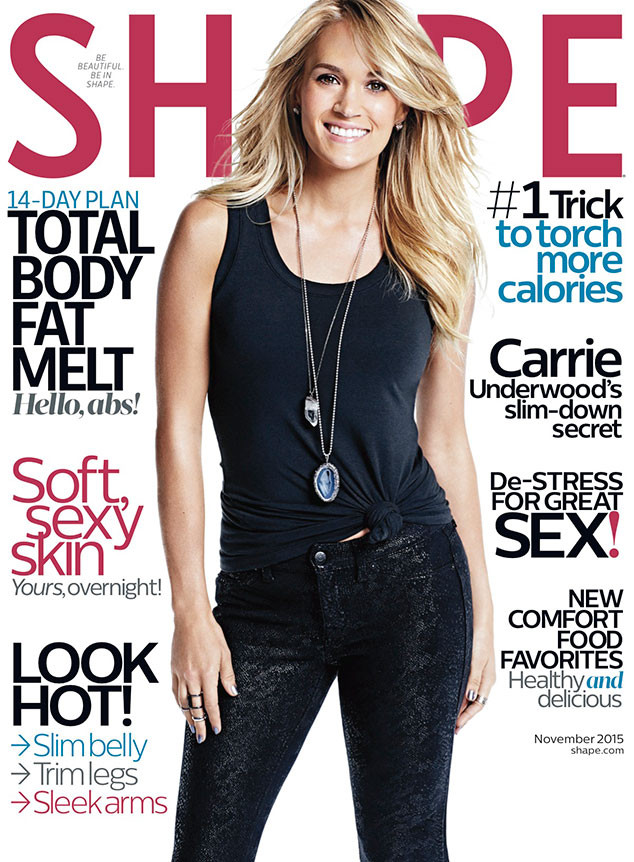 James Macari/SHAPE Magazine
For Carrie Underwood, life just seems to keep getting better.
With her fifth studio album Storyteller set for release on Oct. 23, an upcoming hosting gig at the 2015 CMA Awards, and a 10-month-old son, Isaiah, it's clear Underwood is having a very fine year. It doesn't hurt that she looks better than ever—a true nod to the new mom's commitment to health and fitness.
In the upcoming November issue of SHAPE Magazine, the 32-year-old blonde bombshell revealed an array of her lifestyle secrets, including the one major strategy she uses for getting a flat stomach overnight.
"I'm vegan and I love bread, but recently, I started making dinner a breadless meal. I'll have a bowl of oatmeal for breakfast, and I'll make a sandwich on Ezekiel bread for lunch, but in the evening I'll have protein and vegetables and no bread," Underwood admitted to SHAPE Magazine. "When I wake up, my belly is flat!"
Surely, that can't be the only reason your abs are in check, Carrie.