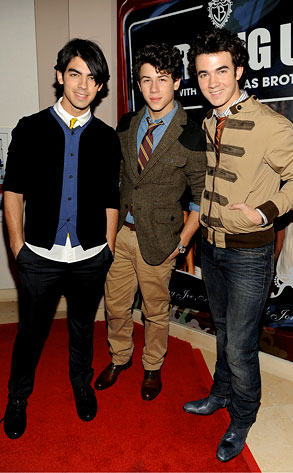 Jordan Strauss/Getty Images
Fresh from their AMA victory and just in time for the holidays, the Jonas Brothers have written a book, Burning Up: On Tour With the Jonas Brothers, which features private photos and memories from their tour.
With their purity rings and impeccable manners on display, Kevin, Joe and Nick hit Sunset Tower Hotel last night for their release party and talked about their own favorite read.
"A Wrinkle in Time; it means a lot to us as a family," Nick told me. "One Christmas vacation, we all just went and read the book together in a cabin. No TV, nothing like that."
Could they be any more wholesome?
Not that they're above having fun. Kevin, who just turned 21, has indeed has his first legal drink. "We had a toast with the family," he said. "It was really nice."
So what about 19-year-old Joe dating 22-year-old Camilla Belle?