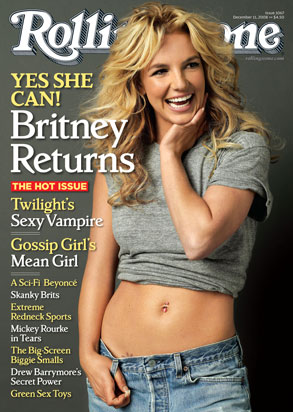 Peggy Sirota/ Rolling Stone Magazine
A Britney Spears Comeback Tour wouldn't quite be the same without a Rolling Stone cover—especially since the mag helped launch her underage sex-kitten image back in '99 and then documented her Frapp-guzzling, pap-loving downfall just this past February.
Rolling Stone's job now, along with everyone else in the Brit camp, is to reassure all of us that Old Britney is totally back and ready to rock this Circus! They accomplish this with a relatively tame, Parade-esque cover showing off Brit's flat stomach and big blond mane. In fact, the only tangible evidence the article ever provides that Old Britney is back forreal is her blond hair.
The article itself echoes Brit's previous complaints that her life is like Groundhog Day. The interviewer sticks to preapproved questions as a Brit-guard hovers and the pop star hints at how bored she is...