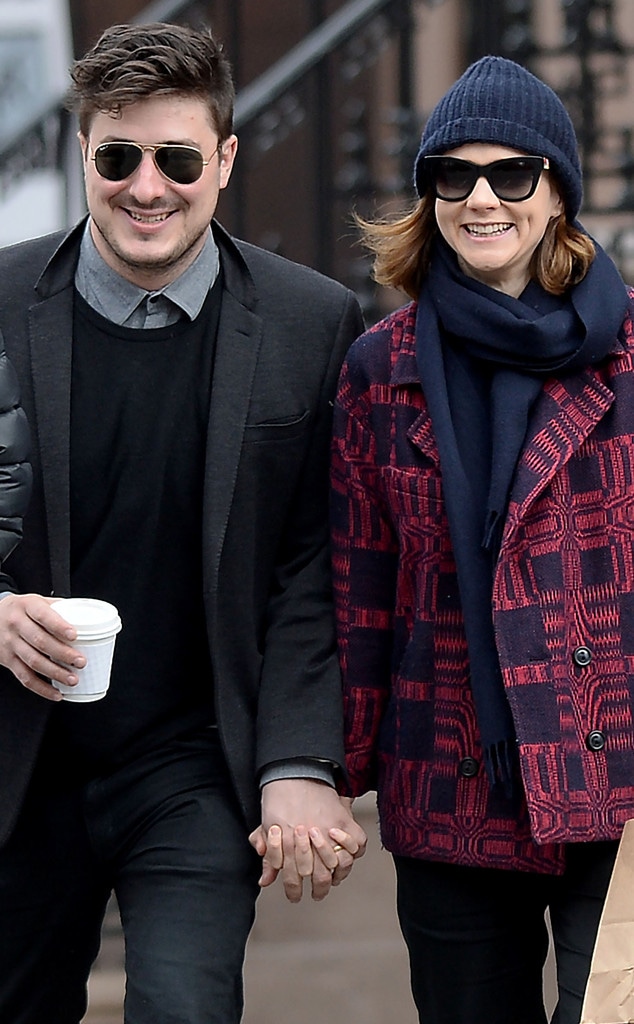 Doug Meszler / Splash News
It's a girl for Carey Mulligan and Marcus Mumford!
Only a few days after E! News exclusively confirmed that the 30-year-old actress had given birth, Mulligan revealed on The Graham Norton Show that she and her musician husband welcomed a baby girl "three weeks ago." She appeared on the talk show alongside Meryl Streep to promote their new film, Suffragette.
A source told us that everything in the Mulligan household was running smoothly since giving birth.
"Carey has given birth to a healthy and happy baby," the insider revealed. "She is just enjoying this time with her family and close friends."
Mulligan looked gorgeous while appearing on Graham's sofa, putting her amazing post-baby body on display in a low-cut, black pantsuit. Nicole Kidman and Nigella Lawson also looked phenomenal in their all-black ensembles. It looks like the theme of this interview was black LOL.
LEON NEAL/AFP/Getty Images
This isn't the Oscar-nominated actress' first appearance since giving birth. Mulligan went right back to work shortly after delivering her daughter, walking the red carpet at the British Film Institute's London Film Festival. The An Education star didn't open up about her daughter at the film festival or really onset at The Graham Norton Show. Instead, she is focusing this time on talking about her forthcoming movie with Streep, which chronicles the British women's suffrage movement of the late 19th and early 20th centuries.
"What I love about this film is it didn't feel like a documentary about a time; it felt like a film about today," she said during the press conference. "It is a film to mark the achievements of what these women did and what they gave us but also to highlight where we are in the world. We still live in a society that is sexist and that goes throughout history."
Now that she has a little girl of her own, she's probably even more excited to tell the story of women who changed history. Prior to her daughter's birth, Mulligan and her Mumford & Sons husband were "really excited" to start their family.
"She is feeling wonderful. She is really excited to finish her projects up in the next coming months and enjoy some time off to just focus on her and family," another insider told us. "Her pregnancy has been going well and she is trying to take it easy in between press with her new film Far from the Madding Crowd and her show on Broadway."
Congratulations to the happy couple!
Suffragette hits theaters in the U.S. on Oct. 23.
(E! and Focus Features are both members of the NBCUniversal family.)