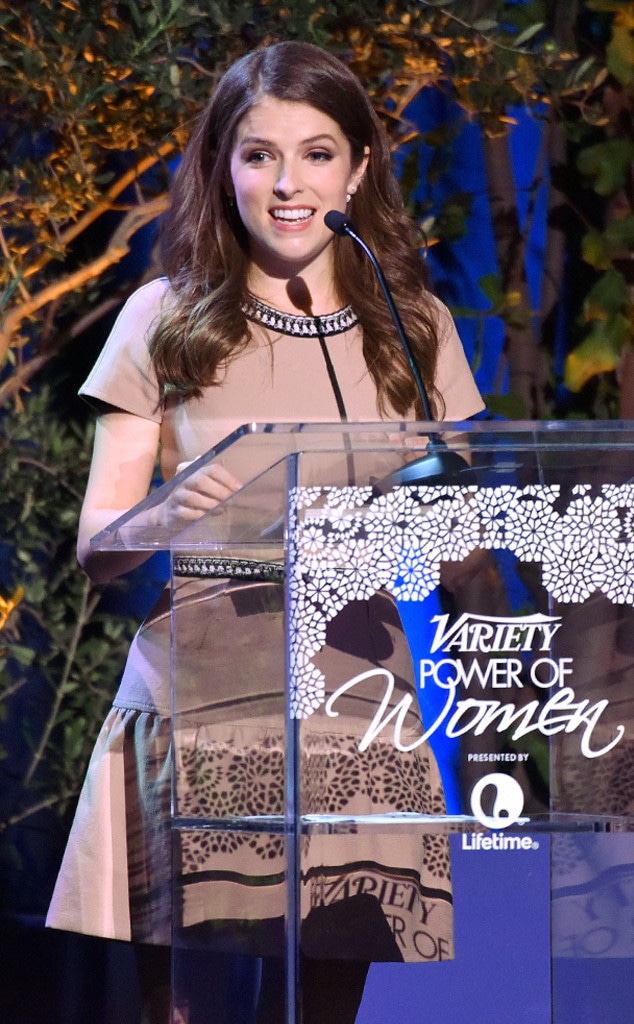 Rob Latour/Variety/REX USA
Anna Kendrick won't be satisfying her sweet tooth with Jelly Belly candies anytime soon.
The Pitch Perfect star continued her informal campaign to educate people about the candy giant's chairman's support of an anti-LGBT group in California during Variety's Power of Women L.A. luncheon on Friday. She was honored for her work with The Trevor Project, the nationwide support group for LGBT youth.
The actress said "it was really silly" how she discovered the startling news about Jelly Belly Company chairman Herman G. Rowland Sr. Frontiers magazine reported in 2013 that Rowland had donated $5,000 to Privacy for All Students, an organization that tried to strip away California's Assembly Bill 1266 (AB1266), which granted transgender students rights.
"It started as a really silly thing," Kendrick recalled. "I thought, I wonder who the CEO of Jelly Belly is and I'll bet they're fun and when I gave it a quick search, the first thing that came up is the CEO had donated funds to an organization that's sole purpose was repealing a law that guaranteed transgender students equal access to bathrooms, locker rooms, and sports teams."
In August, Kendrick tweeted to her 4.8 million followers, "Just randomly discovered Jelly Belly donated to anti-trans-students campaign in 2013. Know any good alternatives for my jelly bean cravings?"
"I mention [this] not because I want to take down one candy company but just as an example of people who are grown, functioning successful contributors to our society who make decisions that tacitly confirm to young people that to be different is to be undesirable," Kendrick said.
After a Facebook group Boycott Jelly Belly sprung up two years ago, a consumer said they wrote the company and received a reply, which said, "Mr. Rowland, a father of four, grandfather of 11 and a great-grandfather believes that the California Legislature can and should come up with a solution that does not violate the privacy expectations of all California's students" and that his donation was "personal" and the company's donation guidelines forbid supporting "organizations that limit membership based on race, religion, color, creed, gender, sexual orientation, age or national origin."
Jelly Belly has not commented publicly.
In February, it was announced that opponents of AB1266 failed to gather enough voter signatures to place a referendum on the ballot next month to repeal the law.
Sweet victory, indeed.
Watch:
Anna Kendrick Dreams of Doing What All Day?!