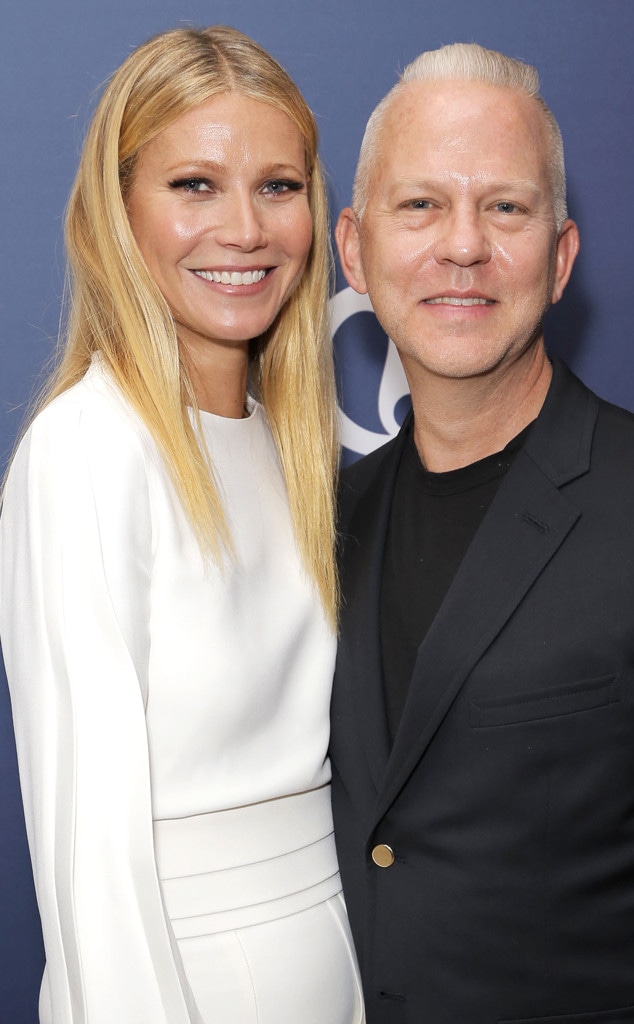 Chelsea Lauren/Variety/REX USA
Gwyneth Paltrow and Ryan Murphy really are that close.
So close that the American Horror Story creator revealed at Variety's Power of Women luncheon today that Paltrow is his son Ford's godmother.
While presenting Paltrow with a Lifetime Impact Award for her work with L.A. Kitchen, Murphy said that when Ford was born he sat down and made a list of qualities he'd like his godmother to have.
"I wanted her to be kind and compassionate, spiritual, funny, basically a balm to sooth in this dark and cynical world," he said before cracking, "It was also important to me that my child's godmother have a best actress Oscar."
Murphy continued, "So I called my good friend Gwyneth Paltrow and I asked her if she would have us and she said yes and I consider my family to be blessed as a result."
Chelsea Lauren/Variety/REX USA
Murphy and his husband David Miller welcomed Ford via a surrogate a year ago. Their first son Logan Phineas was born on Christmas Eve 2012 (also via a surrogate) five months after they married during a wedding ceremony in Provincetown, MA.
Paltrow won an Emmy for her work on Murphy's Glee. She's also now dating his producing partner and Glee and American Horror Story co-creator Brad Falchuk, who sat between Paltrow and Murphy at the Variety event.
"Gwyneth is a lot of things. She's a great actress who starred in such classics as Shakespeare in Love and The Talented Mr. Ripley," Murphy said. "As a younger gay I was also obsessed with the legend of Gwyneth—the beauty, the eight Vogue covers, the style, the legs that go on for days [and] the taste."
Paltrow stunned today in a white skirt and top.
"Thank you, Ryan. That was so beautiful," Paltrow said after taking the stage to accept her award. "I am so blessed to be your friend and in the lives of you and David and the kids."
Also honored by Variety for their charity work were Oprah Winfrey, Salma Hayek, Anna Kendrick and YouTube CEO Susan Wojcicki. Tracee Ellis Ross hosted the festivities, which took place at the Beverly Wilshire hotel.
Watch:
Gwyneth Paltrow Says Ryan Murphy Reminds Her of Who?!