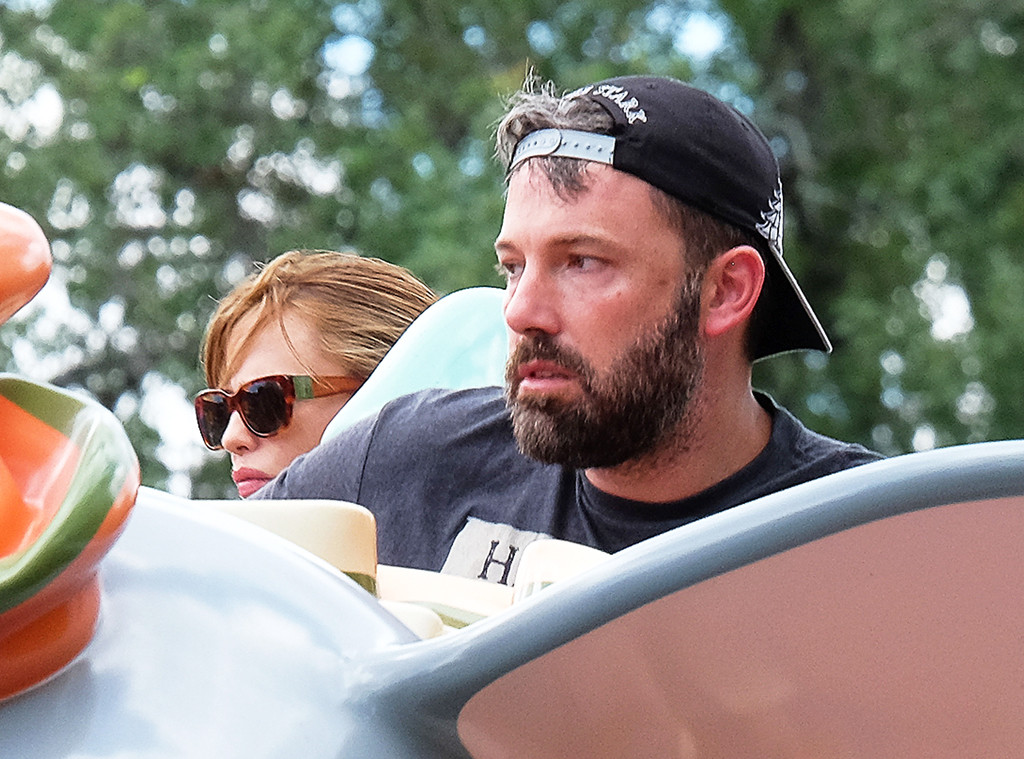 SBMF/Griff666/FAMEFLYNET PICTURES
Ben Affleck unwittingly became the face of one of the biggest celebrity scandals of the summer after reports claimed he got too close to his kids' nanny.
It was a tough pill to swallow, especially since fans were still reeling from Ben and Jennifer Garner's decision to end their marriage after 10 years and three adorable children together.
His camp adamantly denied that anything romantic went on between the Oscar winner and their now-former nanny Christine Ouzounian, who's more than a decade younger than Jen—but bitter pills leave behind a bitter taste. 
Putting aside womankind's wounded feelings for a moment, you'd think that the person who felt the most upset by the Ben headlines this summer would be his soon-to-be ex-wife. 
Throughout, Jen kept her head down, juggling her two very public roles of doting mother to three kids and movie star as she went about shooting a movie in Atlanta in full view of the scoop-hungry paparazzi.
"There was a lot of tension between them for a while, but it wasn't all about the nanny," a source close to the couple tells E! News. "It's never easy for a couple going through a split."
And as the scandal started to fade from public consciousness, so did the drama behind closed doors. According to sources we have spoken to about the situation, the person who could be forgiven for being the last to forgive Ben is starting to come to terms with what happened.
"It's not as fresh in her mind and some of the shock has worn off," one pal says. "She will never forget about it, but she's also not harping on it every day."
MiamiPIXX/FAMEFLYNET PICTURES
That being said, another source close to the duo adds, "There are still a lot of issues, but she has put them aside for the sake of the her family."
"She has not forgiven him for things that have happened, but she's committed to keeping her children happy," the source says. "But that sometimes means doing what she would rather not do."
We now know that when the story broke, as everyone was trying to find out who exactly Christine was, Jennifer Garner was already very familiar with her. She had fired the nanny weeks before after Ben took Christine to Las Vegas with him (a trip that also caused an issue for Ben's best pal Tom Brady and his supermodel wife, Gisele).
Jen was coming to terms with the perceived betrayal, though the friend tells us, "She didn't think the story would ever come out."
And two months later, she's trying to forgive Ben. "She is pleased the story has died down and her kids don't have to hear about it," the friend says. "She really just wanted it to go away as fast as possible. Behind closed doors she is dealing with her own personal feelings and how to process what happened."
Jen and Ben were barely on speaking terms during Christine's 15 minutes, when her face was splashed all over the tabloids and online. When Ben would go to Atlanta to visit with their kids, he stayed in the guest house on the property Jen was renting in town. 
Dunkin D/Griff666/FAMEFLYNET PICTURES
But in recent weeks, Ben and Jen have been spending an increasing amount of time together, even stepping out for a dinner date at Nobu, and things are looking up—a far cry from the frosty atmosphere that immediately resulted from Nannygate.
"Jennifer really loves Ben and wants to be able to forgive him for the drama," says another friend. "She isn't going to ever stop loving him. He's the father of her kids and she wants him in their lives.
"She's been able to put aside their differences and focus on the future. Her kids come first and being able to co-parent is her priority. Ben wants the same thing and that's helped. They've had to come together to make decisions regarding their kids. Jennifer wants to share it with Ben. That's brought them together."
And Jen's determined to move on so that she can raise her kids in a healthy environment, we're told.
"Not a lot has changed since they split up as far as the kids are concerned," the pal continued. "Ben and Jen trade off taking them to school, depending on whose schedule is free that day. Sometimes they get coffee in the morning or take the kids to karate or for ice cream after school. They do a lot of stuff together, by choice. Even though just one of them could go and get the kids, they've been making an effort to both go together."
One of our family insiders reiterates, "Jen's number one priority is the kids and always has been...When they spend time together, it is for the kids."
Jen and Ben also took up another joint pursuit since the split: They have started going to church. According to the insider, it was Jennifer's idea, but Ben was very amenable to all of it.
"On the weekends they spend a lot of family time together with outings to the farmers market and church," the source tells us. "He is definitely going along with what she wants and doing the best he can to fix things. Although he has been scouting for his new movie on location, he flies home to be with the family whenever possible."
But the thawing of the tension between the former lovebirds doesn't mean they will ever get back together. Says another insider: "Inevitably, there are still feelings there but a lot has changed between them."
Light Brigade/Bauer-Griffin/GC Images
So where is the nanny from hell now? There were rumors that the 28-year-old Ouzounian was going to find a way to cash in on her newfound fame and possibly sign up for a reality show (think Bachelorette, or a future season of Dancing With the Stars). But instead, as pictures of a happier-looking Bennifer spending more time together have emerged, Christine has been nowhere to be seen. 
There's no big mystery though, according to one source, who tells us, "She's still living at her parents' house in Santa Monica and trying to get her life back on track and figure out what's next. She is looking for opportunities but nothing has come of it yet.
 "And no, she is not in contact with Ben."