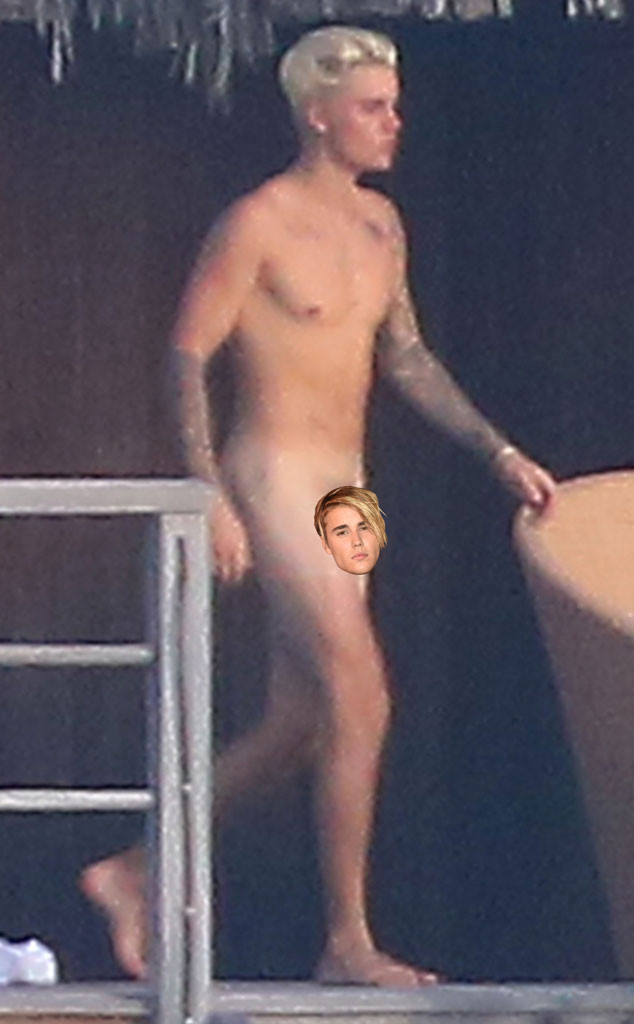 FAMEFLYNET PICTURES
It was the penis and butt heard seen 'round the world.
Justin Bieber was relaxing completely naked (casual) in Bora Bora recently when a photographer caught him in his birthday suit. Photographed with everything out and about for our eyes to absorb, Justin carried on with his life as if he didn't know what was coming (pun intended).
And he definitely didn't.
The New York Daily News first posted the photos with the typical blurry censors, but that didn't stop the Internet from being all Internetty and posting the raw images, with the Biebs' butt and penis on full display. A social media freak out ensued. Some were in awe of what the "What Do You Mean?" singer was slinging while others were perturbed by the lack of privacy of it all.
They're the pictures that are launching a thousand discussions: Where do we draw the line when it comes to celebrity privacy? How far is too far when it comes to snapping a photo and, finally, is this the ultimate schadenfreude?
Remember when Bieber Instagrammed a picture of himself naked from behind while on cruising on a boat? He ended up taking it down and apologizing for it because some of his younger beliebers caught wind of it.
Since then there have been plenty of shirtless selfies and other tantalizing pictures, but there hasn't been anything too revealing. It seems that once Justin apologizes for something, which in the past year he has done fairly often, he is adamant about keeping it that way. Yes, he allowed us to see his butt that one time, but we never really saw it again...until now.
And we're really getting a glimpse this time. The now-infamous photos gave us plenty of jokes in the meantime. (OK so maybe it's a bit of Photoshop trickery, but jokes just the same). What's longer: the penis you can't see or Bieber's new Kate Gosselin hair? So many jokes, so little time.
But based on his facial expression, he's none too pleased with having to block out his own bits, which he was more than willing to show off in the past.
Yes, these photos have people talking again about important social issues such as the double standards facing women (imagine what the world would say if a woman was caught naked!), but how much can we take away when Justin's own father is impressed with his son's...genetics.
Jeremy Bieber took to Twitter Friday to say what we were all thinking—that Justin looks large and in charge—but that was weird. SO WEIRD. Like on no planet is that OK kind of weird.
But despite his dad's comments, despite the Twittersphere's opinions and even despite these in-your-face photos (Justin on Justin...literally), we all learned a very important lesson that the 21-year-old star has already thought of and is probably gloating about somewhere:
His Calvin Klein bulge? Maybe it wasn't enhanced after all. Now it looks like that G-rated bulgegate "controversy" was the least of our concerns! No longer can people jokingly debate what they think Justin is hiding under his boxer briefs because now we know, which is yet another topic up for debate.
At least we can guess that Jon Hamm is off somewhere breathing a sigh of relief that his bulge is finally out of the picture.