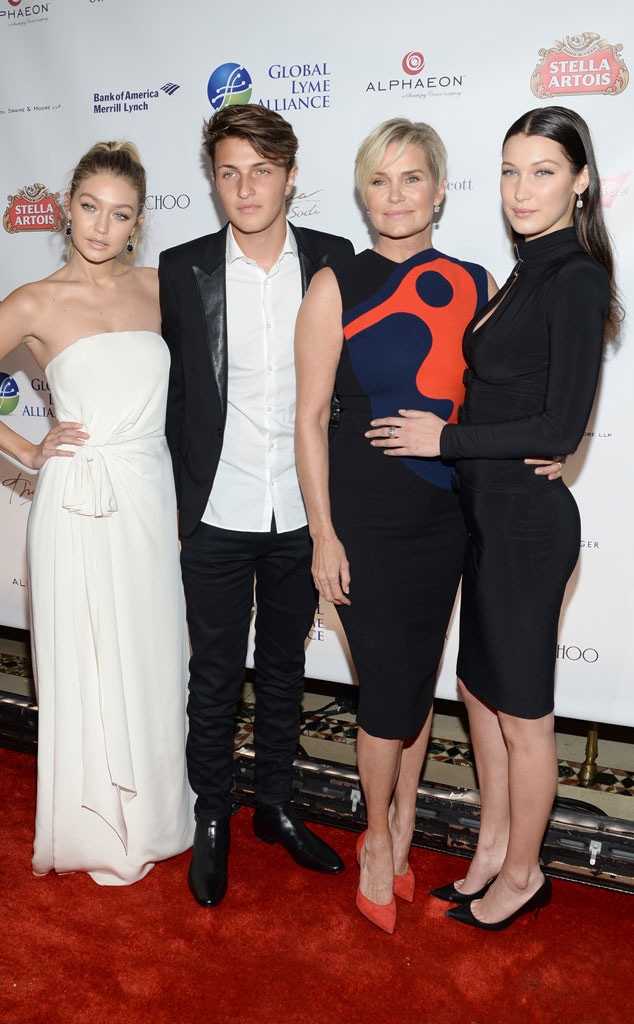 Evan Agostini/Invision/AP
Yolanda Foster is not the only person in her family who is suffering from lyme disease.
The 51-year-old Real Housewives of Beverly Hills cast member disclosed new information about her family's affliction with lyme disease—both children Anwar Hadid, 16, and Bella Hadid, 19, have also suffered from the chronic illness.
Foster made the announcement while accepting the "Power of One" Award at the inaugural Global Lyme Alliance gala in New York Thursday. 
"When my two youngest children, Bella and Anwar, were diagnosed with chronic Lyme disease in early 2012, watching my babies struggle in silence in order to support me in my journey struck the deepest core of hopelessness inside of me," Foster said while standing at the podium.
Foster was diagnosed with the tick-borne illness in 2012 and has been vocal about her struggle with the disease while starring on the Bravo show and through her social media accounts. Husband David Foster and her three children, including breakout fashion model Gigi Hadid and her boyfriend Joe Jonas, attended the event in support of their beloved mother.
Gigi also had the opportunity to introduce the Dutch former supermodel before accepting the honor. 
"I remember when she was going into the first season of filming, she said to me, 'I don't know why this show was brought to my life, but for some reason, I think it will lead to something bigger,'" Gigi, 20, said in her introductory speech.
"She realized that she could use this platform of this world-famous television show to spread awareness. She was honest, unapologetic, and raw in how she portrayed lyme disease on social media and on the show from the second she announced to the world she had been diagnosed."
When Foster came up to accept the reward, she didn't sugarcoat the remorse she feels for the toll the disease has taken on her abilities as a parent.
"I am so sorry for all the important things I have missed in your life these past four years," Foster said of her accomplished children. Both Gigi and Bella have skyrocketed as international runway models, while Anwar is just launching his own career in front of the camera.
"I used to be a pretty cool, smart, multi-tasking, kickass mom, but all three of you, all three of my children really got short-changed with a dumb blonde in the white robe, that mostly lives her life in bed."
Still, the woman who had reportedly lost the ability to read, write, or even watch TV for a time found an alternative to stay close to her trio of kin. 
"I did turn into a professional social media stalker, though—liking every Twitter and Instagram you have ever posted, just to let you know that I was watching you from afar and right by your side in spirit at all times."
It was only fitting that Foster commemorate her devotion to her children in their fight against the disease with a heartfelt dedication. 
"This award is for Anwar and Bella. This is my token and my promise to you that I will not allow you to live a life of pain and suffering. I will walk to the end of the earth to find a cure so that you can live a healthy life that you deserve," Foster said. "No child should suffer the way that you do...I thank you both for your extraordinary selflessness during this journey. Your unwavering love and compassion has kept me alive and fighting through the darkest days of my life."