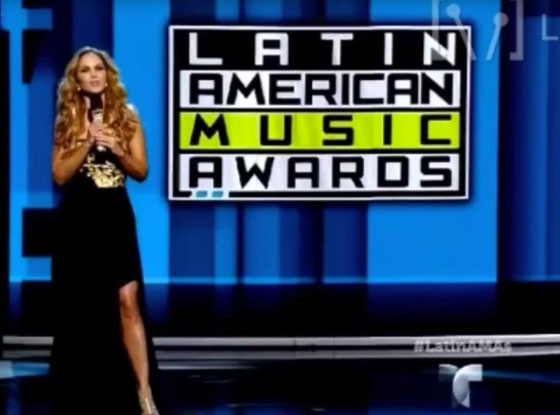 YouTube
Now that is how you kick off an inaugural awards show!
Spanish-language music took center stage tonight at the Latin American Music Awards, the first of its kind to follow the American Music Awards' fan-voted platform.
Hosted by Latin America's sweetheart and telenovela star Lucero, the evening delivered explosive performances from musical sensations across multiple genres including Paulina Rubio, Lil Jon, Shaggy and Daddy Yankee as well as appearances from Adrienne Bailon and Chiquis Rivera.
Salsa icon Celia Cruz was honored with an unforgettable medley from Aymée Nuviola—who will portray the late singer in an upcoming Telemundo series—alongside singers Maluma, India and Yuri.
Check out the complete list of winners from the Latin AMAs below!
Chris Pizzello/Invision/AP
Artist of the Year: Enrique Iglesias
New Artist of the Year: J Balvin
Song of the Year: "El Perdón," Nicky Jam & Enrique Iglesias
Album of the Year: "A Quien Quiera Escuchar," Ricky Martin
Favorite Female Artist: Gloria Trevi
Favorite Male Artist- Pop/Rock: Enrique Iglesias
Favorite Song- Urban: "Sígueme y Te Sigo," Daddy Yankee
Favorite Artist- Tropical: Romeo Santos
Favorite Collaboration: "El Perdón," Nicky Jam & Enrique Iglesias
Favorite Duo or Group: Camila
Favorite Song- Pop/Rock: "La Mordidita," Ricky Martin feat. Yandel
Favorite Male Artist- Regional Mexican: Louis Coronel
Favorite Duo or Group- Regional Mexican: Julión Álvarez y su Norteño Banda
Favorite Song- Regional Mexican: "Y Así Fue," Julión Álvarez y su Norteño Banda
Favorite Male Artist- Urban: Daddy Yankee
Favorite Song-Urban: "Sígueme y te Sigo," Daddy Yankee
Favorite Crossover Artist: Demi Lovato
Favorite Song-Tropical: "La Gozadera," Gente de Zona feat. Marc Anthony
Favorite Dance Song: "I Want You To Know," Zedd feat. Selena Gomez
Favorite Streaming Song: "El Perdón," Nicky Jam & Enrique Iglesias
Favorite Duo or Group- Urban: Gente de Zona