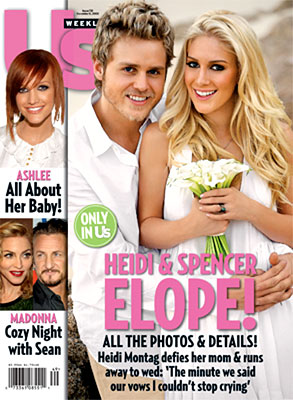 Us Weekly
Well, they did it. And in true Speidi style, what the most important day of their lives lacked in loved ones, it apparently more than made up for in cameras.
Which, come to think of it, could be Speidi's most beloved ones of all.
While until now reports of a Heidi Montag-Spencer Pratt union were nothing more than speculation, Us Weekly has confirmed that the duo quietly—quietly inasmuch as they waited four days before trumpeting the news on the cover of a weekly tabloid—tied the knot in Cabo San Lucas, Mexico, last Thursday.
"The minute we said our vows, I couldn't stop crying," the 22-year-old Hills bride told the magazine.
Tears of joy, we presume.