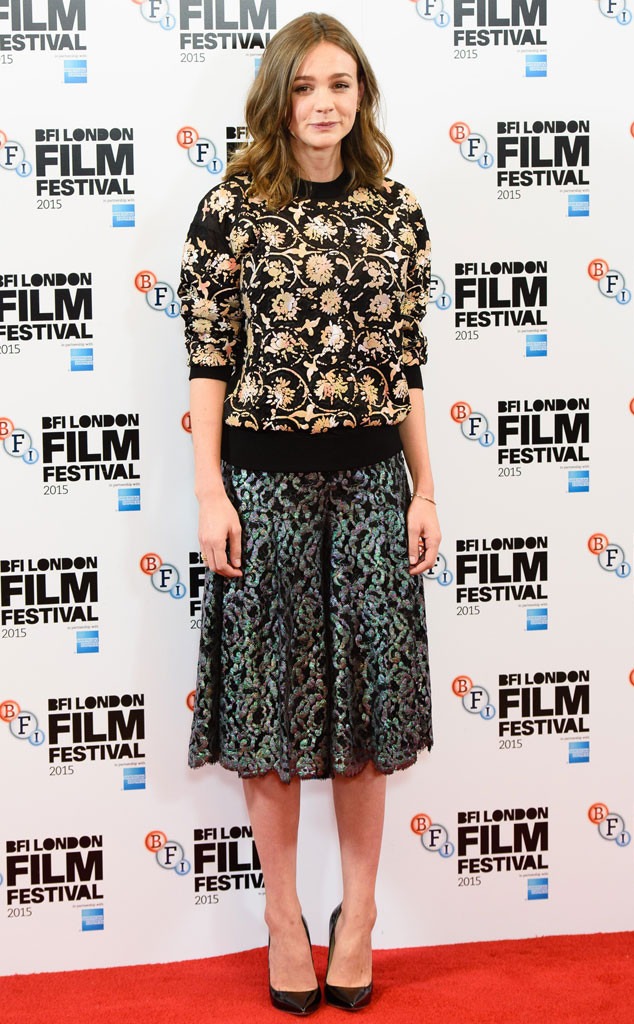 LEON NEAL/AFP/Getty Images
Surprise! Carey Mulligan is a new mom.
The 30-year-old actress, whose pregnancy was revealed in June, stepped out for the first time since giving birth Wednesday. Mulligan looked typically stylish when she walked the red carpet at the British Film Institute's London Film Festival. The famously private star, who was on hand to promote Focus Features new film Suffragette, wore mixed prints and posed with co-star Meryl Streep, director Sarah Gavron, screenwriter Abi Morgan and producers Alison Owen and Faye Ward.
"Carey has given birth to a healthy and happy baby," a source tells E! News exclusively. "She is just enjoying this time with her family and close friends."
Mulligan wasn't at the festival to discuss her bundle of joy. Rather, she was there to talk about her latest film, which chronicles the British women's suffrage movement of the late 19th and early 20th centuries. "What I love about this film is it didn't feel like a documentary about a time; it felt like a film about today," she said during the press conference. "It is a film to mark the achievements of what these women did and what they gave us but also to highlight where we are in the world. We still live in a society that is sexist and that goes throughout history."
As a young girl in England, Mulligan said, "I knew relatively little. I remember there was a small paragraph in a history book saying 'they got there,' basically. I had lots of images of women politely marching the streets holding banners. Reading the script, I remember Googling as I went, thinking, 'Is this real?" The actress said she felt "so lucky to grow up in a generation—and in a family—where I haven't had to fight. I have had a very lovely but easy upbringing and I'm incredibly privileged in that respect so I have never had to fight. I suppose we fight for more equality but we also fight for people who aren't in our position. I don't know if I would throw rocks for myself but I would like to think I would throw a rock for somebody else."
At another point during the press conference, Streep said, "The film will encourage and empower people with little hope around world." Suffragette is as relevant today as it was over 100 years ago, Streep argued. "The less you see about women's achievements the more you think now is the way things have always been."
Mulligan wasn't able to attend the film's first premiere at Telluride in September, as she was about to give birth. Three months earlier, a source told E! News that she was "feeling great and loving every minute of being pregnant." Mumford, whom she quietly wed in 2012, was "really supportive and helpful." His Grammy-winning band, Mumford & Sons, is scheduled to resume its worldwide tour in November.
Suffragette, meanwhile, hits theaters in the U.S. on Oct. 23.
(E! and Focus Features are both members of the NBCUniversal family.)