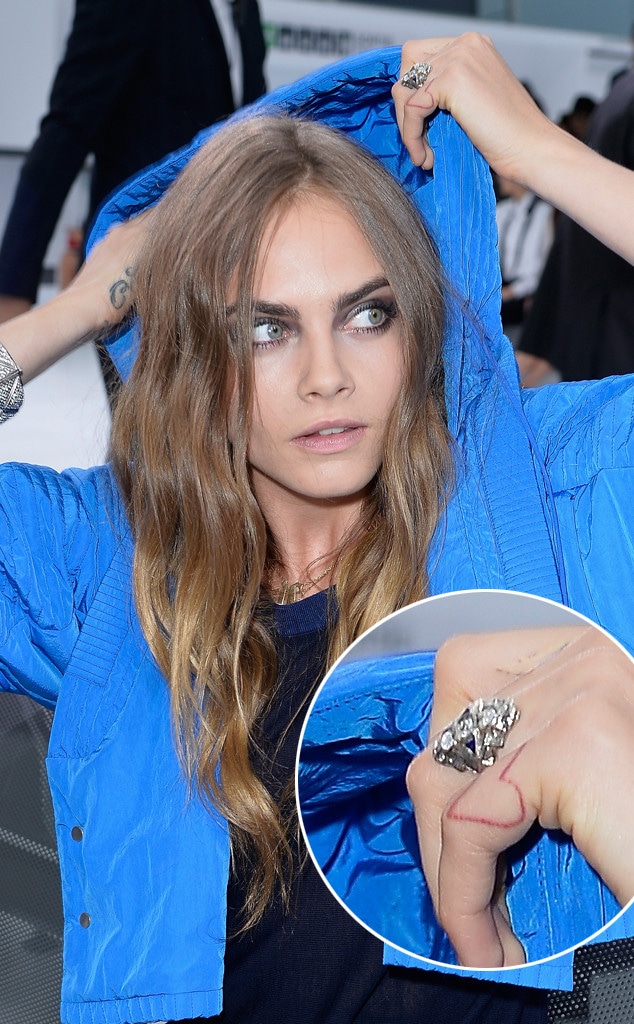 Rindoff/Le Segretain/Getty Image
Are Cara Delevingne and girlfriend St. Vincent ready to tie the knot? 
The 23-year-old model-turned-actress has been spotted wearing a gorgeous ring on that finger over the course of Paris Fashion Week, prompting speculation that the Paper Towns beauty is engaged to St. Vincent (real name Annie Clark), her girlfriend of about 11 months. 
Delevingne's rep had no comment when asked about the possible engagement. 
The two were photographed hand-in-hand today while leaving the Chanel airport-inspired runway show, where the cute couple also showed subtle PDA as they sat front row during Karl Lagerfeld's spring-summer 2016 presentation
Back in June, the couple first sparked engagement rumors when 33-year-old Tulsa native Instagrammed a photo of a note which read "Marry me, Annie Clark."
Shortly after, Delevingne appeared on the July cover of Vogue and opened up to the publication about her romantic life, admitting she is "in love" with the stunning musician. 
"I think that being in love with my girlfriend is a big part of why I'm feeling so happy with who I am these days," she revealed. "And for those words to come out of my mouth is actually a miracle."
David M. Benett/Dave Benett/Getty Images for Burberry
Though Delevingne has never publicly defined her sexual orientation, she told the magazine that she was confused about her sexuality from a very young age, which added to the anxiety and depression she experienced while growing up.
"It took me a long time to accept the idea, until I first fell in love with a girl at 20 and recognized that I had to accept it," she said. 
While Delevingne does not want to be labeled, she has previously expressed her fear of relationships. 
MachettePix/startraksphoto.com
"Women are what completely inspire me, and they have also been my downfall," she told Vogue, later adding, "If I ever found a guy I could fall in love with, I'd want to marry him and have his children. And that scares me to death because I think I'm a whole bunch of crazy, and I always worry that a guy will walk away once he really, truly knows me."
Last month, Delevingne and Clark attended the Burberry Prorsum show at London Fashion Week, where the two looked effortlessly chic while cozying up together in the front row. The Grammy winner also supported her girlfriend at the Paper Towns premiere in NYC in July. 
Yesterday, Delevingne Instagrammed about love, in what appears to be a rather timely post. The image featured an elderly couple holding hands while roller-skating and read, "Love is spending the rest of your life with someone who makes you nuts and you just want to kill them but you don't...because you can't imagine life without them." 
If the rumors are true, congrats! 
Watch:
Cara Delevingne Cried During Caitlyn Jenner's ESPYs Speech