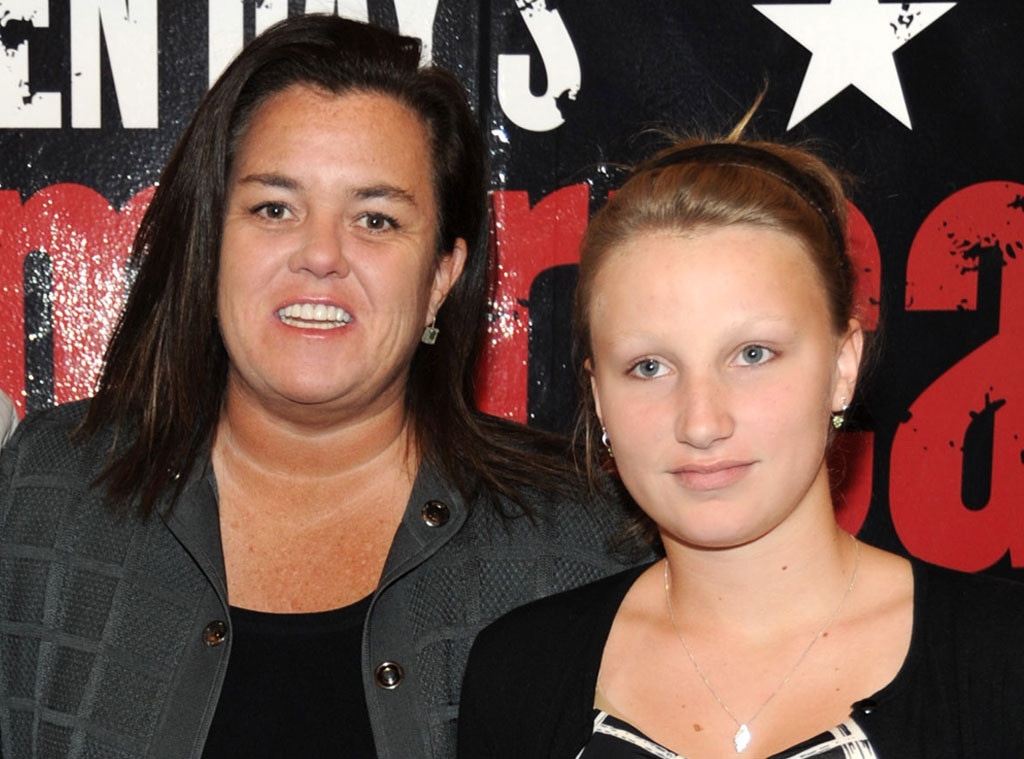 Kevin Mazur/WireImage
Rosie O'Donnell is speaking out in the wake of her daughter Chelsea's deeply personal interview with the Daily Mail.
Rosie's rep tells E! News she feels the whole article—which bashes Rosie as a parent and reveals some very private details about their life behind closed doors—is "heartbreaking on every level."
In the article, Chelsea speaks out for the first time about the days she went missing, claiming her mother—who took to Twitter, begging for her daughter's return—was the one who kicked her out of the house in the first place.
"She told me to leave and take my dog," Chelsea claims. "Rosie said that I was almost 18, and she got all this crap from work, and she didn't want to have to deal with that at home too."
Thus, Chelsea (17 at the time) decided to leave with her older boyfriend Steve Sheerer, 25, who she is still dating.
After officials returned her to her mother's home, Chelsea says, "[Rosie] had two of my bags packed with clothes. Literally ten minutes after the police had dropped me off at the house, I got in a car and went to a friend's house."
The 18-year-old says this is why she struggles in her relationship with Rosie—because she is "two different people."
"I find her not genuine a lot of the time," Chelsea explains. "When we'd go out, she was a completely different person in public than at home and I had a hard time with that."
She adds, "She has this public persona; she will put this big smile on her face and try to be funny. She would always go up to people and want to hold their babies in public. She had this happy, friendly side to her. Whereas when we were home, even if it was on the same day, she would either just be in her room, not engaging with us, or watching documentaries."
Chelsea says her mom spent a lot of time "smoking weed" and blasting Madonna in her "arts and crafts room."
However, she notes that things weren't always this bad growing up. They only recently began to take a turn for the worse.
"Things were good when I was younger but as I got older, I became more interested in knowing about my birth parents and didn't really get along with Rosie very well," Chelsea reveals.
She says things got particularly bad when Rosie divorced Kelli Carpenter, who shared custody of Chelsea and her three siblings.
"Since I was 12, I've struggled with depression and anxiety. It started when Rosie and Kelli got divorced," Chelsea admits. "It was very upsetting to me and I think I took it harder than the rest of my siblings."
"That's when everything started to go downhill and I got sent away," she explains of moving in with Carpenter at the time and later being sent to a boarding school in Utah.
Ocean County Prosecutor's Office; Getty Images
"I resent her for that. That's four years of my life that were spent sent away to places where I had very limited freedom and I didn't want to be," Chelsea says. "I think being sent away has played a huge part in why our relationship is so hard."
Currently, Chelsea says she's "happier than she's been in years" while living with her boyfriend (Sheerer) and his family in New Jersey.
"I guess everyone is putting out there he's a bad guy from things that happened in the past," she says, referencing his previous drug and DUI charges. "But he's not. He supports me and I love him. He's not into anything bad now, he works hard."
The two plan to move to Wisconsin soon where Chelsea will finish getting her high school diploma and attend community college.
"I'm pretty normal," Chelsea says. "I guess now I can just prove to Rosie that I am."
Meanwhile, at the time Chelsea was found, Rosie's rep said, "Rosie's concern has been and always will be the health, safety and well-being of her daughter."
Watch:
Rosie O'Donnell on New "View" Cohosts