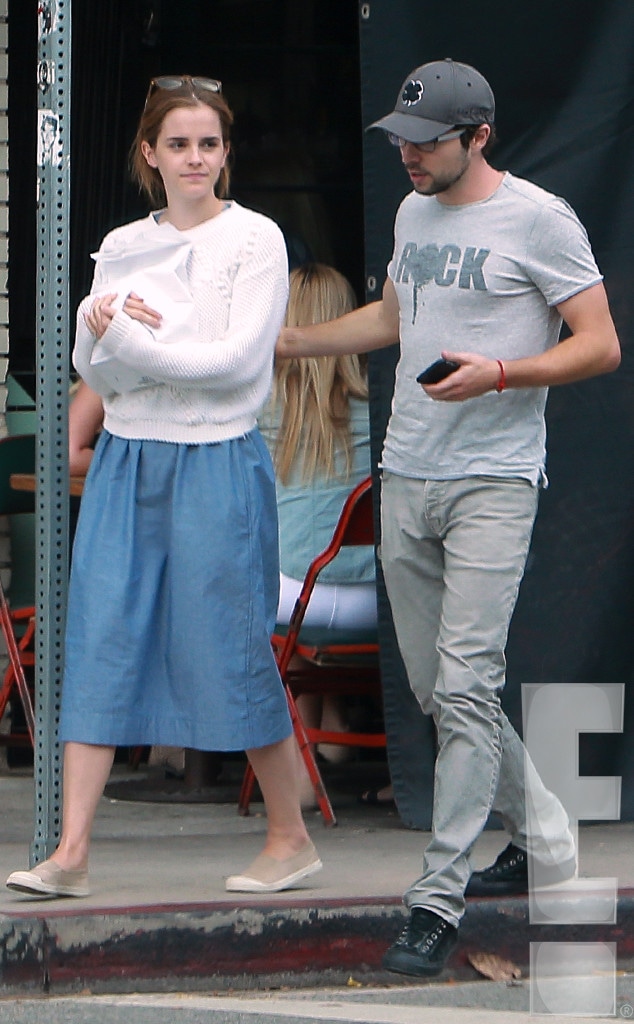 Coqueran/Coleman-Rayner
UPDATE: E! News has learned that the mystery man is Roberto Aguire whom she met on the set of Harry Potter and the Goblet of Fire.
Could this be the work of Hermione's love potion or has Emma Watson found a brand new beau?
The Regression actress hit the streets alongside a mystery man—his identity is unknown as of yet. The 25-year-old gender equality activist sported an oversized white blouse and long denim skirt while her unidentified hunk rocked a pair of black thick-framed glasses, a baseball cap, a T-shirt and a pair of lace-up sneakers. This was definitely a casual affair. 
From the looks of it, they kept the date location relaxed too as the couple went for lunch in Los Feliz, Calif., Sunday—Watson later spotted toting a doggy-bag outside. Leftovers for a "Netflix and chill" session perhaps?
This is the first time we've spotted the successful young actress with a potential new love since she broke-up with former boyfriend Matt Janney. Watson and the rugby player split up around December 2014 after nearly a year of dating.
The Brown University graduate first sparked rumors of a romance with Janney, a University of Cambridge player, after they were spotted hugging and kissing in the Caribbean the previous January. Fast forward 12 months and Watson had endured a brutal breakup rendering her silent.
"I felt really uncomfortable," she said in an interview with Vogue U.K. "Even before my relationship ended, I went on a silent retreat because I really wanted to figure out how to be at home with myself."
According to reports, Watson took a vow of silence while staying at a private facility in Canada's Rocky Mountains.
While that relationship clearly did not end well, the brunette beauty insisted that her previous boyfriends have made the trials and tribulations of love all worth it. 
"They've built me up," she said. "I certainly haven't found that with doing all that I do or being all that I am, that I've struggled in my love life." 
We hope this burgeoning love affair with her mystery man brings Watson new butterflies.