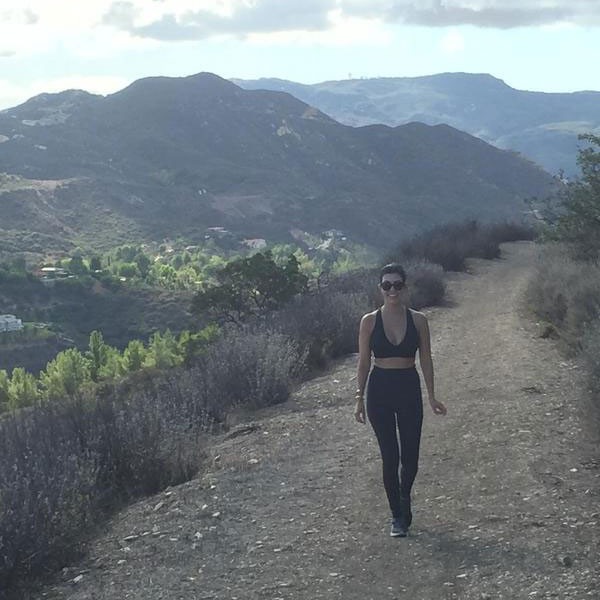 Twitter
Oh, you thought Kourtney Kardashian would be bothered? That's cute.
The E! star took to social media earlier today to show off her bangin' bod while working on her fitness, just as snaps of ex Scott Disick and his rumored new (and young) girlfriend began to make their way on the Internet, proving that the best way to deal with a breakup is to get it right and get it tight.
Kourt was all smiles while posing for a quick snap during her Monday morning hike, flaunting her fit figure and toned abs which totally distract you from even acknowledging the beautiful scenery behind her.
The 36-year-old's picture comes on the heels of Disick and his rumored 18-year-old girlfriend making their social media debut—albeit a short one.
Disick posted a photo of himself and Lindsay Vrckovnik wearing matching fur coats while reportedly in a hotel room in Miami. He quickly deleted the snap, but, per usual, the photo will forever live on the worldwide web.
The pair was also spotted by paparazzi while hanging out poolside with pals in Florida over the weekend, and didn't seem to engage in any blunt PDA, but were definitely getting cozy while catching some sun in their swim wear. This was the second public outing by the duo, who also spent some time partying together in NYC earlier in the week.
So who is Vrckovnik? Well, the young blond is a Canadian, hailing from Mississigua, Ontario, and aside from modeling, she is also an artist, who specializes in photography, drawings and paintings.
The recent high school graduate revealed during an interview in April that she always dreamed of moving to New York, saying, "Most of my inspiration comes from my environment, and the people I'm surrounded by. Nothing inspires me more than being in a creative environment, or seeing someone engaging in something they're passionate about (thus why NYC is the dream ahhh).
"A lot of my work is inspired by the mystery of strangers and their stories. I consider all of my portraits strangers because none of them are inspired by myself or people i know, but rather emotions and stories i create through examining people and places unknown to me."
It looks as though the dream may have come true, as she is currently attending Parsons School of Design in the Big Apple, and chances are we might see some artwork inspired by Disick. "Chances are if i spend a lot of time with someone, they inspire me a lot, everyone for different reasons," she said in the interview.
"I find it interesting to see how other people handle and react to things, because depending on my own feelings for inspiration can get pretty draining and repetitive, and it's nice to get out of my own head when I'm creating."
Don't miss Keeping Up With the Kardashians Sunday at 8 p.m., only on E!