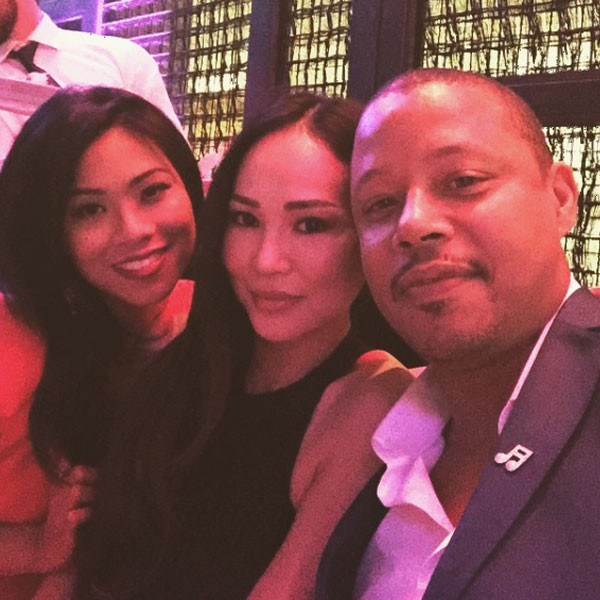 Instagram
It may be all about Cookie on-screen, but then when the cameras turn off, it looks like there's only one woman in Terrence Howard's life. 
The Empire star cozied up to his third wife, model and restaranteur Mira Pak, while attending The Latest Spin charity event held at AnQi together on Saturday in Orange County, Calif. The couple posed for selfies—one of which Howard posted to his Twitter account. 
"Happy Anniversary My Life's Love!" the St. Vincent actor captioned the photo of the pair smiling while Pak's engagement ring was in clear view. 
The 46-year-old actor continued to gush over his wife, whom he wed in 2013, in the caption of an Instagram photo, giving a very special title to the very special woman in his life.
"@thelatestspin @elizabethan @catherinean supporting a great cause!!! Good company... With my One too!"
Charles Sykes/Invision for the Television Academy/AP Images
While touching, these photos come as a surprise considering the couple allegedly divorced in August after filing in March while Pak was still pregnant with the couple's first child—a son they later named Qirin Love. 
Howard's track record is not so hot when it comes to  the love department, either. Before his marriage to Pak, he was married twice before to Lori McCommas, with whom he has three children, and Michelle Ghent. Howard plead guilty to charges of domestic violence against McCommas while Ghent later filed a restraining order against the actor in 2011, claiming domestic abuse. Eeek!
Despite his history and the supposed divorce, the couple seemed to be back on track when they arrived at the 2015 Emmys red carpet on each other's arms. Maybe things are looking up for the two lovebirds—after all, Howard said she is his "life's love." There's no quitting that kind of commitment.
Related:
"Empire" Stars Spill Season 2 Secrets!