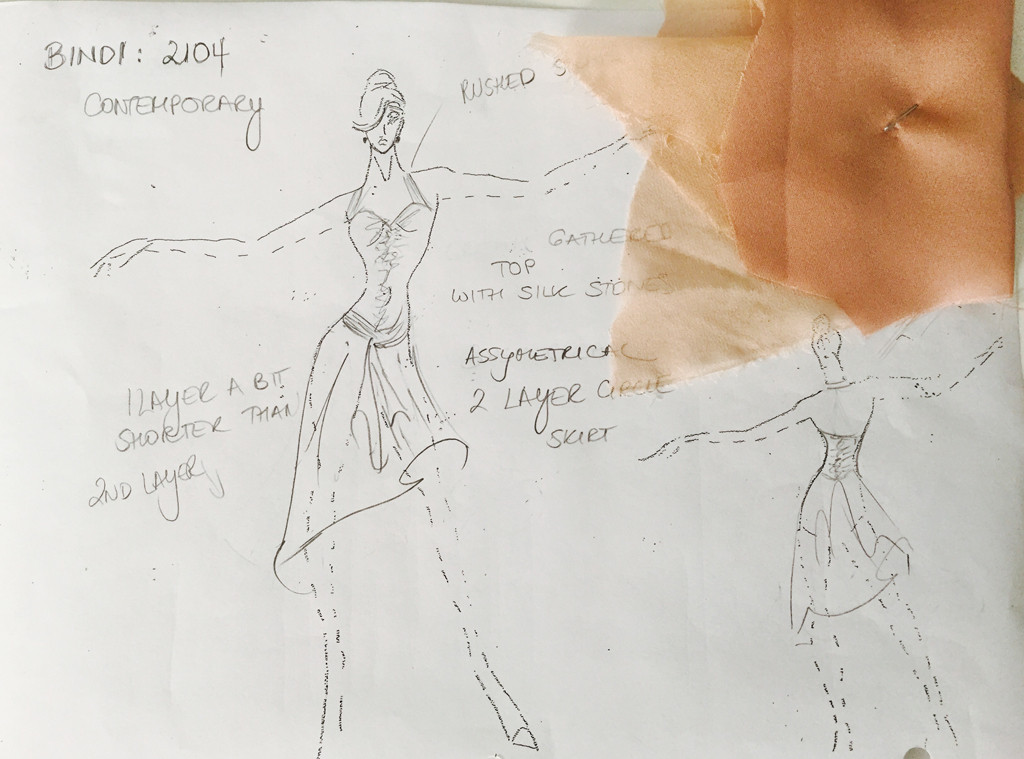 ABC
Have the tissues ready for Dancing With the Stars tonight.
It's going to be the most emotional night of the season, as the ABC reality hit's celebrities' performances will be inspired by their Most Memorable Year. And fan-favorite Bindi Irwin and her professional partner Derek Hough are set to pay tribute to her late father Steve Irwin with their contemporary routine to "Every Breath You Take" by Aaron Krause featuring Liza Anne.
E! News has your exclusive first look at the 17-year-old's simple yet stunning peach dress for the sure-to-be emotional performance in the sketch above. 
"This week is going to be an emotional journey on @dancingabc but I'm so ready to share it with you. Thank you from the bottom of my heart for your support," Bindi wrote on Instagram, along with a photo that read "grief does not define you. It reveals you." 
And Bindi is relying on her partner for support; The wildlife expert posted a sweet message to Derek on her Instagram, writing, "This week on @dancingABC is focused on Most Memorable Year and has been filled with many emotional moments. Words can't express how grateful I am for all the support from @derekhough."
She continued, "He has been there to help me on this journey and create something beautiful that means so much to me, for Monday night's show. His strength and hugs are getting me through this week - as a friend and big brother."
Awww!
Related:
Bindi Irwin Talks Honoring Dad on "DWTS" and More
When E! News chatted with Bindi earlier in the season, she opened up about her father, who passed away in 2006 when she was just eight years old. 
"I think for me, Dad will always be my superhero," she said. "You know, everything I do in life is to make him proud and to carry on his legacy, and so I really am dedicating this entire—however long I'm able to make it—to him, to my family, to other people who are in a similar position. You know, after you lose a person like that, you feel like the sun will never shine again, but it will, and it may not shine as brightly, but you have to find that light in everything that you do. I feel like this experience, getting to work with Derek and the beautiful people on this show, has really been such a bright place for me, and I'm excited to focus all of my energy on doing the best job possible."
DWTS airs tonight at 8 p.m. on ABC.