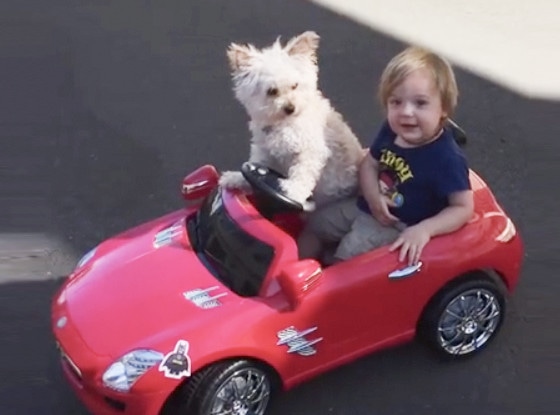 Youtube
Puppy, take the wheel!
Proud mom and dog owner Jessica Wolf was recently enjoying some play time with her family when she caught a moment that was too cute not to film.
While her son Oliver was enjoying his remote-controlled toy car, their puppy named Daisy decided to hop in for a ride. Instead of just being a passenger, however, the four-legged pooch decided to grab the wheel and help control the vehicle.
"Daisy loves to drive Oliver around in their car," Jessica wrote on YouTube. "Yes she is really steering it. Hope you enjoy."
While thousands of viewers couldn't help but smile, one skeptic tried to ruin the fun by speculating about the authenticity of the video. Don't worry, Jessica has an explanation.
"Actually... For your information there is nothing fake about this video. Yes the car is a remote control car. The driver can override the remote by turning the wheel themselves," she explained. "Daisy loves to stand on the car and move the wheel herself, if you notice she mostly pushes to the left so the car drives to the left most of the time. So I sometimes will help move the wheel to the right in order to let her move it again to the left herself... And to help them avoid from hitting anything if it is needed."
She continued, "It's just meant to be a fun video for easy enjoyment of our girl Daisy and her best Buddy Oliver. Happy it is allowing so many people to smile."
Now if only this puppy had the skills to be an Uber driver. Five stars all day, every day!
Who is Hollywood's top celebrity dog? Watch the video below to find out!