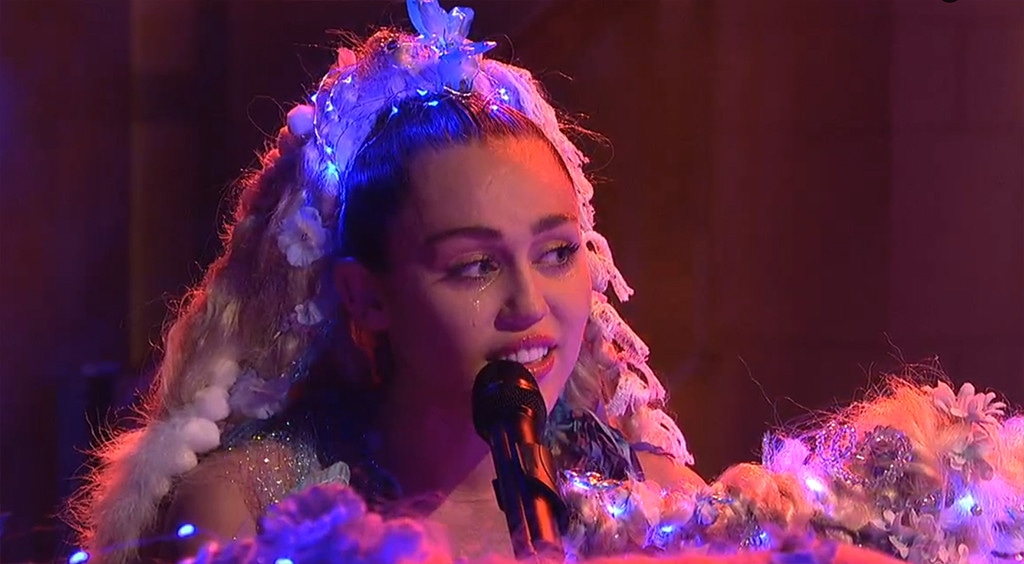 NBC
Miley Cyrus returned to host NBC's SNL on Saturday for the show's season 41 premiere and brought the flowers and the tears.
Sporting a long, blond wig adorned with blossoms, the 22-year-old pop star got emotional while performing her new ballad, "The Twinkle Song" on a piano covered in similar material, with a framed heart-shaped photograph of her deceased dog, Floyd, placed on top.
"Dear Floyd, thank you for sharing this magical moment with mommy," Cyrus wrote on Instagram. "I misssssssss yiewwwwww #mileyonsnl #thetwinklesong #wemissutwinkle #wemissufloyd #wemissupablow."
The song is from her new, free album, Miley Cyrus & Her Dead Petz and contains lyrics such as "And I had a dream / I was being chased by a monster/ Maybe they were aliens . But I wasn't scared 'cause you were there / And I had a dream / You took karate / That's when you said you loved me / You loved me / What does it mean? /What does it all mean?"
She also donned a thick, ankle-length wig and wore only floral vines as she performed her track "Karen Don't Be Sad."
 Watch her performance below and also check out the three best sketches starring Cyrus.
1. Monologue
Wearing a colorful dress and cap made of fake flowers, Cyrus sang a beautiful version of Frank Sinatra's "My Way" as cast members appeared dressed as people who have stirred controversy or made headlines over the past few months, such as:
- Rachel Dolezal, a civil rights activist who was born to white parents and had sparked criticism for self-identifying as a black woman
- Kim Davis, a Kentucky county clerk who went to jail last month for refusing to issue marriage licenses to same-sex couples following a Supreme Court ruling
- "The Dentist Who Killed Cecil the Lion"
- "The Twerp Who Raised the Price of AIDS Medication"
- Lenny Kravitz and his very NSFW wardrobe malfunction
2. '50s Dance
In a Grease-like skit, Cyrus played a high school girl who raps and isn't afraid to go all the way...and by all the way, we mean lick frosting off new SNL star Jon Rudnitsky's face.
3. The Millennials
Cyrus wore a pastel purple and blue wig in this skit, which mocks young adults.
Other highlights from the episode: A Walking Dead parody skit in which two sorority girls lament their exclusion from Taylor Swift's squad and a sketch starring Hillary Clinton as a bartender who chats with Kate McKinnon, who plays the presidential candidate.
(E! and NBC are part of the NBCUniversal family.)