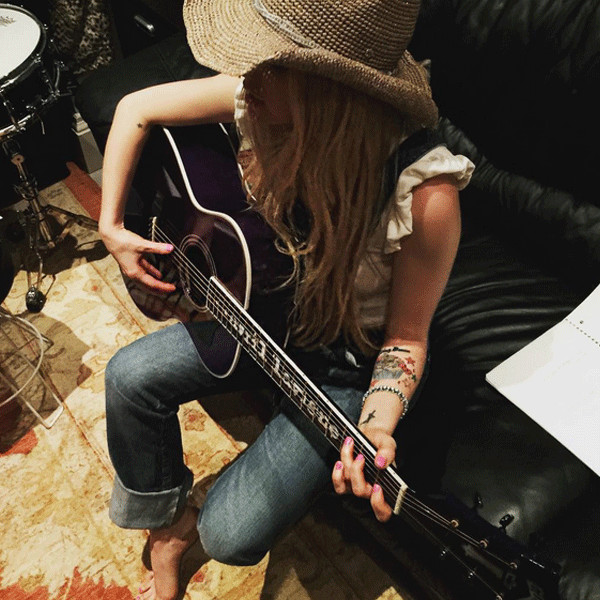 Instagram
Maybe things aren't so complicated after all.
Just one month after Avril Lavigne announced her separation from Chad Kroeger, the singer appears to be remaining close with the Nickelback frontman.
In an Instagram posted Saturday afternoon, Lavigne hit the music studio where she grabbed the guitar and put on a traditional cowboy hat. Sounds pretty ordinary, right?  Not until you read her captions.
"YeeHaw! Writing with Chad today," she wrote on social media. "Back where it all started…"  
The comments immediately began pouring in with fans delighted to see that Lavigne was still on good terms with Kroeger. "It's so good to know you're still friends," one follower wrote. Another added, "Yes ya'll seem well suited for each other."
Perhaps it shouldn't be the biggest surprise to fans. After all, when the pair announced their separation on Sept. 2, the duo made it clear that there will still plenty of love between the two.
"Through not only the marriage, but the music as well, we've created many unforgettable moments," Lavigne wrote on Instagram. "We are still and forever will be, the best of friends, and will always care deeply for each other."
The pair said "I Do" in July 2013 during an elaborate ceremony surrounded by 50 of their closest family members and friends. Held at a 14th century castle in the South of France, this wedding clearly wasn't your ordinary celebration.
"It was certainly a rock and roll wedding," a source shared with E! News. "Everyone's had the best time."
So what's next for this Hollywood pair? You know we'll be watching and listening.