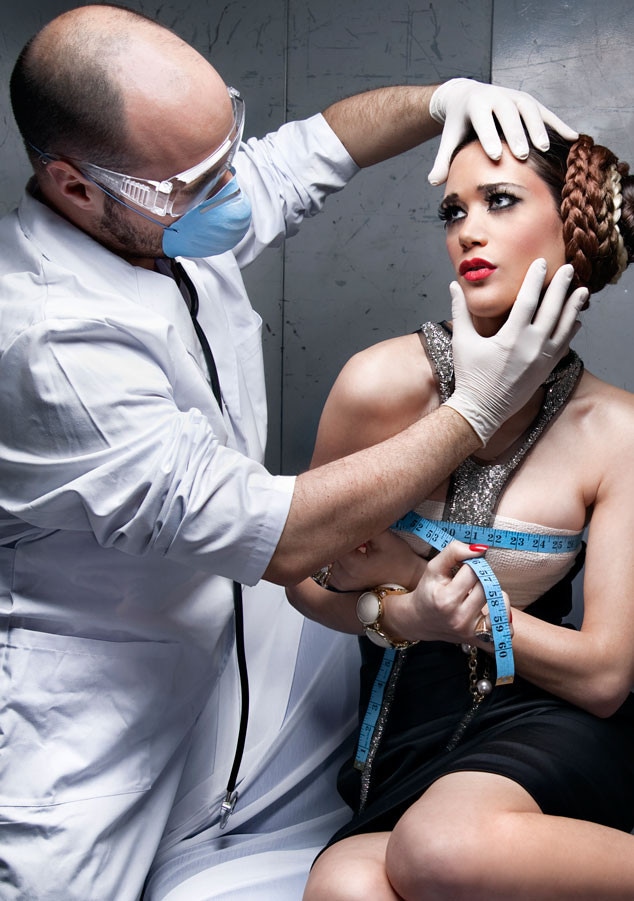 iStock
Want to make changes to your appearance but don't want to go under the knife? Don't worry, because we have some amazing plastic surgery hacks to show you.
While plastic surgery can be a great way to alter your appearance, it's not the only way. We found 10 plastic surgery alternatives for you to consider. Trust us, these hacks will change your life.
1. Preparation H
How It Works: Preparation H is a great way to remove wrinkles at a low cost. Be sure to test the Preparation H on our skin to make sure you don't have any sensitivity. If you don't experience any sensitivity, try applying the Preparation H on your face where you see the wrinkles occur. Be extra careful not to get any of the Preparation H in your eyes.
Cost: $8.49 Walgreens
2. Snail Facials:
How It Works: You might think we're crazy, but hear us out. Snail's mucus reportedly contains nutrients that are beneficial to our skin and results in a serious glow.
Cost: These treatments are extremely popular in Thailand but they are still growing in popularity in the US, so it can be hard to find a place where this treatment can be done. But, for $30 on Amazon you can buy Nature Republic Snail Therapy 50 BB Cream that is said to have similar results.
3. Peppermint Oil
How It Works: If you're looking to plump your lips without getting any work done, peppermint oil could be the perfect solution. You can do this with a lip gloss and a lip brush or Q-tip. Grab a dish to put a couple drops of peppermint oil in and then add a little bit of lip gloss. Take your lip brush or Q-tip and mix the lip gloss and peppermint oil together. Then apply it to your lips. You should feel and see the results almost instantly.
Cost: Peppermint oil is available in many drug stores, you can also get it at the Vitamin Shoppe. The Natures Alchemy Essential Oil- Peppermint is available for $6.99.

4. Waist Trainer/Shaper
How It Works: Celebs like Kim, Khloé and Kourtney Kardashian love using the waist trainers to have slim and shape their waists. Instead of having to have any plastic surgery, these trainers are said to slim your stomach. All you have to do is purchase a waist trainer and begin the process. According to Waist Gang Society, you should start wearing the corset 2-4 hours a day. "Gradually add an hour or two to your daily waist training regimen until you are able to wear the corset throughout the entire day. Wear the corset on the first set of clasps. Once the garment is worn-in you can then begin to use the second set of clasps making the corset tighter," the website says.
Cost: The "Miracle Waist Shaper" on the Waist Gang Society website is $125, but you can buy a similar one for around $37 on Amazon.
5. Make Lips Look Fuller                                                     

How It Works: Put on lip gloss or lip stick all over your lips. Then add a white shade to the middle of your lips, this will give them a fuller appearance.
Cost: You can most likely find any shade of lip gloss at any drug store. Here's Urban Decay's Glide-On Lip Pencil for $20.
6. Avocado Face Masks
How It Works: Grab an avocado, cut it in half. Grab a bowl and scoop half of the avocado into the bowl. You're then going to need olive oil. Pour 1 tablespoon of olive oil into the bowl. You'll then need to grab yogurt and add one tablespoon of yogurt into the bowl. Mix all of the ingredients together and the result will be what you put on your face. Leave the mask on your face for about 15 minutes and then wash it off. The ingredients all have nutrients in them that are great for your skin.
Cost: You can most likely purchase one avocado, olive oil and yogurt for under $10 at a local grocery store.
7. Egg White Face Mask
How It Works: You can also make an egg white face mask that will be great for your skin. You'll need one egg white, ¼ of a ripe avocado and one teaspoon of yogurt. Mix it all up and apply it to your face for 15 minutes and then wash it off with water.
Cost: You can mostly likely find all of these ingredients for under $10 at the grocery store as well.
8. Fuller Hair
How It Works: Want to make your hair look fuller? Find an eye shadow color that is similar to your hair color. Take the eye shadow and apply it to your scalp.
Cost: You can use your own eye shadow, so it could be free!
9. Reshape Nose with NoseSecret
How It Works: If you want to change your nose shape without surgery, there's a product for you. According to their website, "NoseSecret consists of a pair of curved and comfortable splints that you place at the inside edge of each nostril to make your nose look narrower and straighter, instantly."
Cost: A NoseSecret Kit, which consists of 3 pairs of splints, removal tool and instructions, costs $34.95.
10. Castor Oil for Hair Growth
How It Works: If you're in need of hair growth, castor oil can help. The directions for Organic Castor Oil by Camille says, "1 - 3 pumps of oil to your finger tips and massage the oil into your scalp, hair roots or your skin twice a week. Keep the oil in the hair, or wash it out after a while with lukewarm water or your regular shampoo."
Cost: You can purchase this product for $14.97 on Amazon.
If you're looking to make a change, but don't want plastic surgery, these products could really change your life!
Watch all-new episodes of Botched Tuesdays at 9 p.m., only on E!