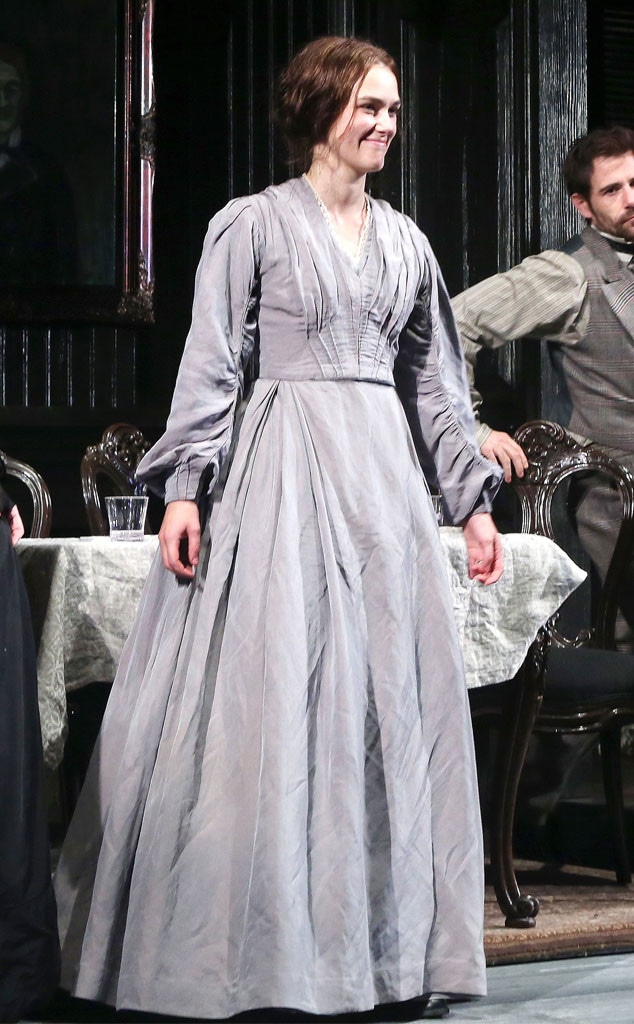 Bruce Glikas/2015 Bruce Glikas
Keira Knightley was all set to make her highly anticipated Broadway debut Thursday night in the opening preview performance of Helen Edmundson's Thérèse Raquin in the titular role. But, unlike the standard theater mantra, practice doesn't always make perfect.
Only minutes after the curtains' draw, the show was disrupted by an unruly audience member who began shouting concerning phrases at the Oscar nominee. Whitney McIntosh and Kacey Bange, who both sat in the audience on opening night, shared their first-hand accounts with E! News of what unfolded inside Studio 54. 
"As soon as the play started, there was a guy who started yelling, 'This was all looney tunes!' I turned and noticed that there was a guy hanging off the mezzanine yelling stuff to the stage. 'Keira, none of this is real! This is all an act! Christ was born of a virgin!'" Bange said. "He kept yelling before ending with a perfunctory, 'Will you marry me?'"
"At this point a security guard walks over and taps him on the soldier, and [the man] starts yelling 'Five seconds! You have five seconds! All it takes is five seconds!'"
After two security guards escorted him to the aisle of the mezzanine level, the stranger made one last-ditch effort to win Knightley's affections.
Bruce Glikas/2015 Bruce Glikas
"They let go of him briefly and at that point he was able to turn and toss his bouquet of flowers on to the stage," MacIntosh said. "They made it all the way to the stage from the balcony and landed with a heavy thud, much heavier than a bouquet of roses would be which was unsettling and suspicious."
In response, Gabriel Ebert, the lead actor of the show, was onstage with Knightley and kicked the bouquet of flowers off the stage, garnering a premature round of applause. 
According to eyewitness accounts, Knightley continued to perform a few more lines until the show was shut down with a short intermission. When the lights came back up, the show resumed as planned. 
E! reached to the theater for comment. "Roundabout Theatre Company takes the safety of their actors and audiences very seriously and extra security will be added beginning tonight," it said Friday. "For obvious reasons, we cannot comment on the exact nature of the additional security measures."
While this may have been a somewhat frightening shock for the actress, Knightley's extensive career in Hollywood has trained her in the art of playing it cool. 
"I would say Keira did a very good job of keeping her composure. The guy kept yelling things and she kept going on with the play without missing a beat. Even after he threw the flowers, and the audience applauded as Gabriel Ebert kicked it away, she basically kept her cool and didn't break a sweat. In fact, she kept reading her lines until the stage managers told her to stop," Bange said. "This was all professionalism. I respect it."
Thérèse Raquin officially opens on Oct. 29 on Broadway at Studio 54.
Watch:
Matthew Morrison Excited for Major Broadway Return