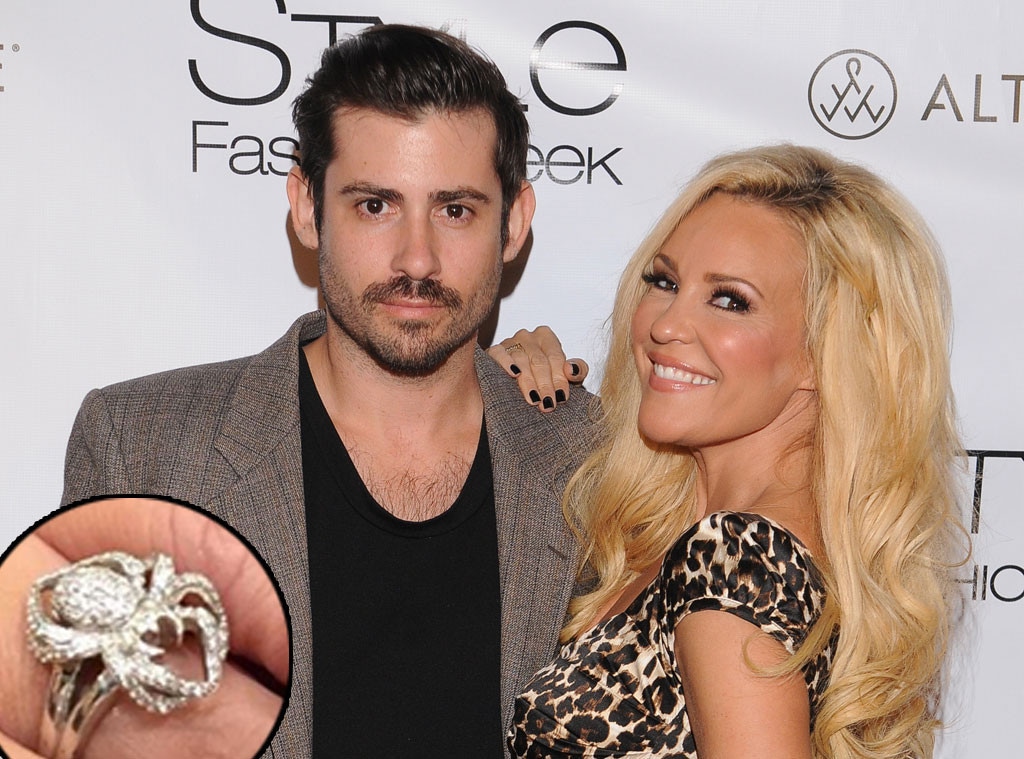 Instagram; Getty Images
The days spent with Hugh Hefner in the Playboy mansion are far behind her…Bridget Marquardt is engaged!
The former Girls Next Door star took to Instagram on Thursday to announce that her longtime director boyfriend Nick Carpenter popped the question!
"Happy Oct. 1st!!!" Marquardt captioned the pic. "Oh...and... Did I mention @nicholascarpenter and I are engaged?"
As the self-proclaimed "Queen of Halloween," Marquardt plays off the theme of her favorite holiday, holding her hand above a spooky sign that reads "Till Death Do Us Part." But the most eye-catching piece of the photo is (of course) the bling: a large, sparkling rock in the shape of a black widow!
While it's unclear whether or not this is her actual engagement ring, we can't help but remember the comments she made to E! News in 2010 when she and Carpenter first began looking at engagement bling.
"We are looking into that," Ms. Marquardt told us at the time, admitting she's taking charge of picking out the design of the ring. "I see a lot of ugly rings on people and I think, ew, I wouldn't want that. Some of them are so gaudy with so many different diamonds on them. I'd want something very clean."
Hmm…that's not exactly how we'd describe a diamond in the shape of a spider...LOL!
Marquardt, 42, met her beau when he directed her and fellow Girls Next Door star Holly Madison in the indie horror flick The Telling. They officially started dating in 2008.
"He's funny and sincere and really sweet," Marquardt told E! News at the Global Grind soiree in 2009. "He's so cute! I'm very happy!"