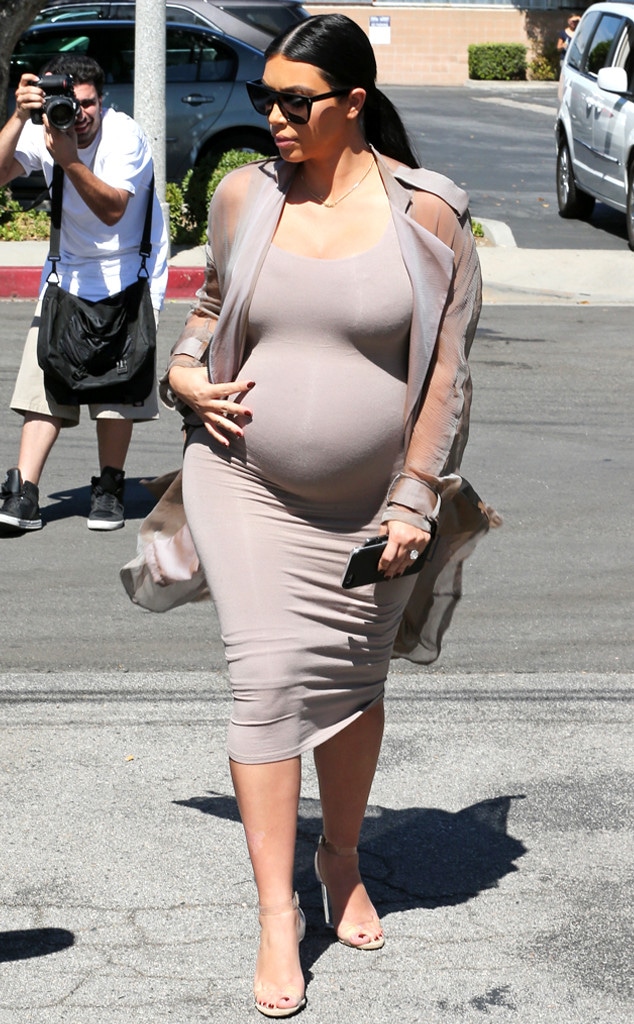 Clint Brewer/Splash News
Jingle bells, jingle bells, baby's on the way…
Oh, is that not how the song goes? Well, we just can't seem to get the little tune out of our heads after hearing the news of Kim Kardashian's due date!
Yes, sources confirmed to E! News the reality star and hubby Kanye West will welcome baby No. 2 come Christmas Day! (Insert Yeezus / Jesus joke here).
Of course a baby's birth is always up in the air, especially when done naturally, but as of right now sources say she may go through with a scheduled C-section for safety reasons, according to TMZ. They also note she's already booked a Deluxe Maternity Suite at Cedars-Sinai in Los Angeles.
Meanwhile, Kim got to chatting about her baby boy during an appearance on The Ellen DeGeneres Show on Wednesday.
The mom-to-be said she and Kanye "haven't decided on name," so Ellen offered a few funny suggestions.  When "East West" was mentioned, Kim didn't entirely deny the idea.
She said, "I do like the name Easton. Easton West. I don't think my husband likes that name, but I do like it. I don't think we'll go another direction."
One thing she's for sure about? "It's definitely not South. Every time someone says 'South' I just want to roll my eyes. It's not a good direction."
Dunkin D/WCP/FAMEFLYNET PICTURES - This photo was posted on parent's social media in accordance with E!'s No Kids Policy
Speaking of Kim's kiddos, she also told Ellen that little North West just met Caitlyn Jenner about three months ago.
"I brought North over for Mother's Day. No, was it Father's Day? It was Father's Day," Kim said. "I called and I said, 'Are you really inviting us over for Father's Day? Are you expecting a gift? You're not double dipping here. Are you Mother's Day or Father's Day? You get one gift.'"
We can't wait to meet their new little one this holiday season!
Don't miss a brand new Keeping Up With the Kardashians Sunday at 8 p.m., only on E!