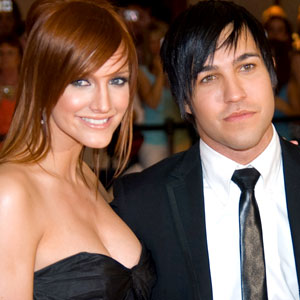 Ilya Dreyvitser/WireImage.com
Did Ashlee Simpson and Pete Wentz really name their kid Bronx Mowgli? That has to be a joke.
—Cara, Alabama
No joke. Let's put it this way: If you've ever wondered exactly how desperate stars are for publicity, look no further than Ashlee and Pete's new bundle of joy, Bronx Mowgli Wentz.
"This is really about the couple making a play for attention," baby-naming expert Pamela Redmond Satran tells me. "It's just another element of celebrities using kids as publicity."
OK, but seriously. Other than a history graced with illegal whiskey, mass arson and Fort Apache, what could have moved these people to choose Bronx? Or Mowgli? Well, there are some clues emerging from their personal lives...
For the uninitiated, the Bronx is a New York borough, and Mowgli was the name of a little boy in Disney's classic cartoon film The Jungle Book. (Bonus fact: Jungle Book author Rudyard Kipling once stated that the first syllable of Mowgli should rhyme with cow, not toe, though the latter pronunciation is more common in the U.S.)
"There was a Winnie-the-Pooh theme with her baby shower," Satran notes. "There's definitely a Disney theme going on with this couple, so that could have something to do with where the baby name came from."
Sure. That. As for Bronx, we've recently seen a slew of celebrity place names, including Savannah (Marcia Cross), Brooklyn (Victoria and David Beckham), Alabama (Drea de Matteo), and Kingston and Zuma (Gwen Stefani and Gavin Rossdale). Zuma is a beach here in Southern California.
"That's a big trend right now, very fashionable," Satran says.
As for what the future holds for a boy with such a name, the answer is, nothing much.
"It'll probably be the same as if they named the baby Bobby," Satran says. "He'll live a life in the spotlight, playing with Brooklyn and Kingston."