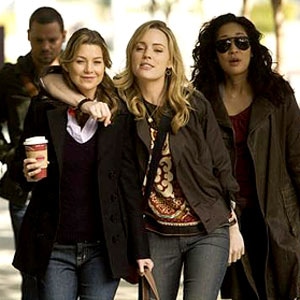 ABC/ Randy Holmes
How much does it cost to produce a reality TV show versus a scripted show? There is some talk that Lipstick Jungle would move to Bravo, but isn't that an expensive show to produce? How much would a show like that cost compared to, say, Project Runway?
—E.G.S.T.
Some shows are so cheap they involve fewer dollars than you have initials. Well, almost. You know that $100,000 contract that McKey Sullivan just won on America's Next Top Model? The money she'll get for gazing up at all those golly-gee tall New York skyscrapers and burbling, "This is my life as a Cover Girl"? She could make one whole reality TV episode with that cash.
"Generally, half-hour reality shows on cable are budgeted in the $100,000 to $500,000 range, per episode," says Hadjii, producer-director of the BET show Somebodies. (Yes, ANTM is one hour, but the models are really skinny, so they probably take up less budget.)
So how about your favorite scripted comedy or drama, like, say, Grey's Anatomy? Well...
One TV producer tells me that such dramas ring in at roughly $1 million per episode, but these days, that's more like a starting point. Take Spartacus, the sandal-strapped sword-swinging saga coming to the small screen via Starz. One report estimates the show's budget at $2 million per episode.
Nash Bridges, the erstwhile shoot-'em-up show, apparently cost that much per episode as well. Ditto with Friday Night Lights, which recently trimmed roughly 5 percent from its $2 million-per-episode budget.
As for my own podcast, it's priceless. Have you subscribed to it yet?