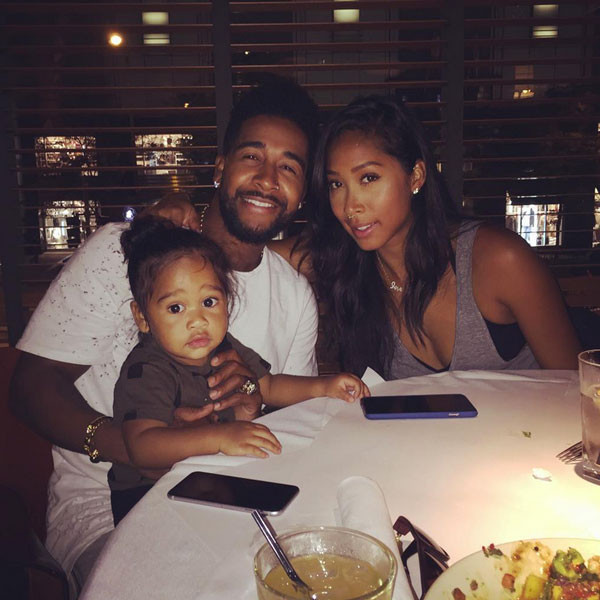 Instagram
There's going to be another addition of love for this Love & Hip Hop family!
Singer Omarion and longtime girlfriend Apryl Jones, who also star in the VH1 reality show's Hollywood franchise, have announced that they're expecting another baby together!
The pair each took to their personal Instagram pages to share the news separately. Apryl showed off her growing bump with their 1-year-old son, Megaa Omari Grandberry, looking up at his mama and sibling in her belly in a sweet post that read, "And he thought he was having a brother lol.... #5months #itsagirl @1omarion."
Yep, you read that right. It's a girl!
In fact, Omarion's post on IG shared the intimate and special moment that they found out the sex of the baby. His video post showed the sonogram of their little bun in the oven, while hearing the technician announce it's a girl—and the family's reaction is heartwarming.
 The couple welcomed their son last August, an experience that was shared with fans on the reality show.
"World. Allow me to introduce. MEGAA OMARI GRANDBERRY. He is 7 pounds. 4oz & 20 inches long. My son I've been waiting on you. God is the realist!! I witnessed a miracle," the proud papa captioned a pic in which he's holding his adorable bundle of joy while gazing affectionately down at his son. 
He also gave props to his ladylove for being so strong.
"My soul mate @aprylsjones is so strong!" he continued. "Not only did she have a un medicated birth (no drugs) she did it at home. Naturally. Just like my mom had me. I love you. thank you for having my legacy. I'll forever belong to you & you will forever be tied to me."
Congratulations to the couple!