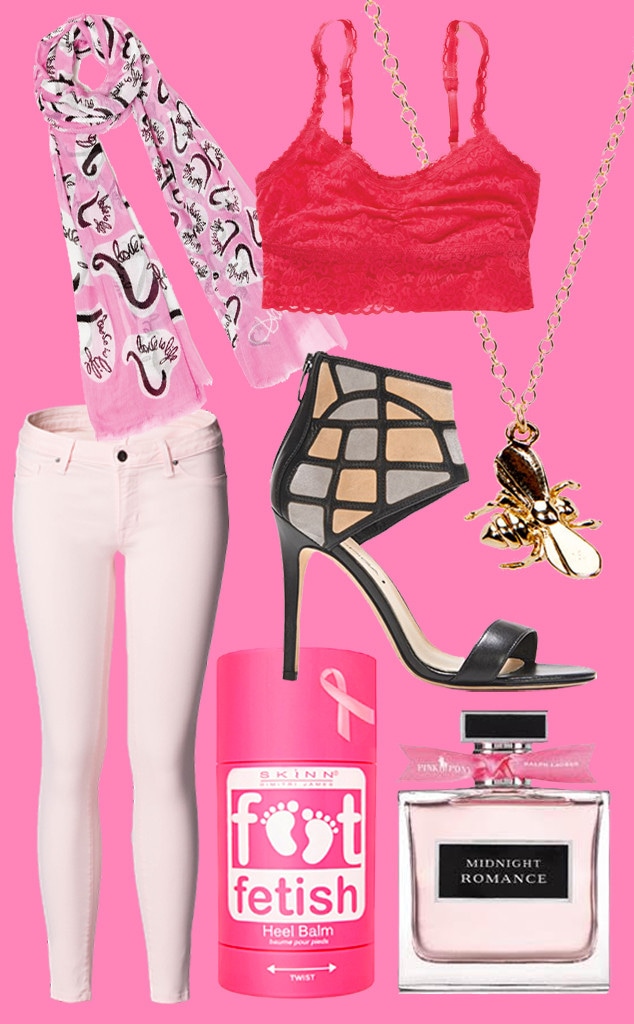 It's October and once again pink is taking over a month once dominated by orange and black. And that is a very good thing. Breast Cancer Awareness has gone mainstream—meaning that seeing ribbons, participating in 5K walks and donating to charities by buying rosy-colored products has become part of your seasonal routine.
While it seems every year the options to spend on grows and grows, this time around we've decided to highlight the items that give back the most to the cause: Beauty and fashion gems that donate 100 percent of proceeds to a breast cancer organization.
But before you get shopping the pretty pink aisles, consider getting in a quick workout at that same department store. Bloomingdale's is holding a Pink Yoga event at stores across the country on Saturday, October 3. The 45-minute sweat session requires a $10 donation fee, which will go toward The Marisa Acocella Marchetto Foundation and The Carey Foundation benefiting the Tutu Project. Participants will also receive a yoga mat and gift bag. 
2015 BCA-Benefiting Products (Clockwise):
DVF The Hanovar Love is Life Scarf, $98. 100 percent of proceeds go to the Bright Pink Organization, a national charity that supports breast cancer prevention, research and awareness.
Aerie Limited-Edition 2015 Bright Pink Bralette, $25. 100 percent proceeds go to Bright Pink.
Bianca Milov Bee Necklace, $45. 100 percent of proceeds go to the Breast Cancer Research Foundation.
Via Spiga Tyndra leather heels,$138. 80 percent of proceeds go to various breast cancer research and edition institutions. 
Midnight Romance Pink Pony, $96. 100 percent of profits from every bottle sold will be donated to Ralph Lauren's Pink Pony Fund, a worldwide initiative to fight against Breast Cancer, which supports programs for screening, early diagnosis, treatment, research and patient navigation.
Skinn Cosmetics' Pink Foot Fetish, $22. 100 percent of sales will be donated to Bright Pink. 
DSTLD Tencel Ankle Skinny in Blush, $67. 100 percent of proceeds will go to Bright Pink.
Watch:
Liz Hurley Brings Awareness to Breast Cancer