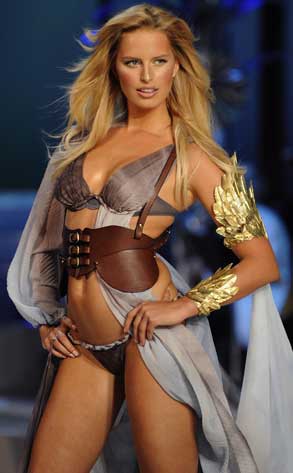 TIMOTHY A. CLARY/AFP/Getty Images
For close to a week, thousands of anxious followers have crowded historic E! Entertainment Square, awaiting final judgment from a sequestered E! leadership conclave on who would be named the Sexiest Woman in the World. Today, amid wild crowd reaction, the traditional plume of white smoke rose from the E! rooftop signaling a decision.
Karolina Kurkova, the blond Czech lingerie model, has been officially anointed. As the Sexiest Woman in the World, Kurkova assumes a mantle of vast international power and responsibility. "She now has the ability to render infallible pronouncements in all matters of sexiness," explained E! vice cardinal of programming Delvecchio Montaverdie-Smith. "She also retains the authority to appoint lower ranks of attractive women, including babes, hotties and dolls."
The stunning Victoria's Secret beauty will also hold court over the multitudes of devoted pilgrims—many of whom were in attendance during the announcement—who journey to pay homage at her select personal appearances for poster signings. Tim Dockleman, 14, stood enraptured as he digested the news, finally declaring Kurkova "awesome."