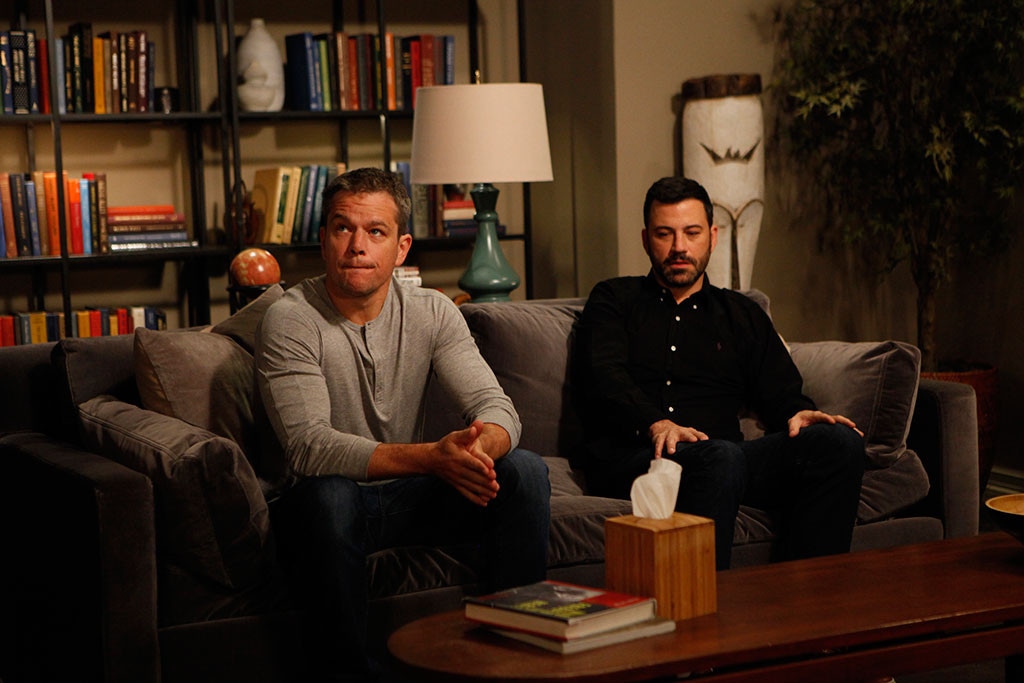 ABC/Randy Holmes
After 12 years of "drama," is there really any hope for Matt Damon and Jimmy Kimmel to move forward peacefully?
The feuding duo attempted to work out their longstanding issues on last night's episode of Jimmy Kimmel Live! by attending couple's therapy together, but it's definitely going to be a bit difficult to put their rocky history behind them.
Let's take a look back at their extensive feud…
It all started in 2003 when Kimmel first closed a show by saying, "Apologies to Matt Damon, we ran out of time" as a joke to make one of his producers laugh.
The host told NPR, "We had a bad show… The guests were bad, and I was feeling pretty bad about myself at the end of the program. And I decided to say, for the amusement of one of our producers who was standing next to me, 'I want to apologize to Matt Damon. We ran out of time.' …And he got a kick out of it, the producer, so I just started doing it every night to amuse him."
But—the question everyone wants to know—why Matt Damon?
"Matt Damon was just the first name that popped into my head. I was trying to think of an A-list star, and somebody we absolutely would not bump if he was on the show…The legs on this bit are unbelievable to me. I mean, people laugh every time I say it…Repeating the same joke every single night, you'd think eventually people would get tired of it, but they don't."
Then, in 2007, Kimmel continued the feud and really got to Damon by announcing that his sidekick Guillermo would be taking on the role of Jason Bourne in The Bourne Ultimatum. Damon couldn't help himself from getting angry, asking Guillermo, "Are you from Kimmel? What, now he wants to bump me from my own f--king movies?!"
The feud continued in 2008 when Kimmel's girlfriend at the time, Sarah Silverman, created a musical skit titled, "I'm F--king Matt Damon." In the video, Silverman says, "We've been together so long—over five years—and I still haven't told you and it's just not right so here it goes: I'm f--king Matt Damon!"
The skit was so popular it even received a Creative Arts Emmy Nomination for Outstanding Original Music and Lyrics in 2008. (Take that, Kimmel!)
Of course Kimmel couldn't let the whole thing go, though, hitting back at both of them in 2009 with his own rendition of the song, "I'm F--king Ben Affleck," which featured a ton of celebrity cameos. At the time Kimmel joked, "Every once in a while Hollywood rallies itself for a worthy cause."
In 2010, the Kimmel vs. Damon feud continued during JKL!'s post-Oscar show. A skit called "The Handsome Men's Club" saw Kimmel evicted from a large group of attractive actors for not being good-looking enough and ended with Damon telling the host, "We're all out of time," then bursting into evil laughter.
In another Oscar skit in 2012, Damon was part of the all-star cast assembled by Kimmel for a parody trailer called Movie: The Movie. The actor appears briefly before being cut from the film and is later seen storming off set in a grape costume, cursing to himself, "I can't believe I fell for that!  F--k Kimmel!"
All of this eventually led up to Damon's first actual appearance on Jimmy Kimmel Live! in January 2013 during which he takes over the hosting duties for an episode titled "Jimmy Kimmel Sucks!" With guest appearances by Kimmel's parents, Oprah Winfrey, Affleck and a slew of A-list actors, Damon dominates the role and ends the episode by seeking revenge and turning the "we ran out of time" joke back on Kimmel.
Damon came back to the show in February 2014 for the first time since hijacking the hosting duties to help promote his film at the time, Monuments Men.  After being forced to read mean tweets about himself, sit in a chair fit for a toddler and be ignored the entire interview, Kimmel finally gives him a real question to answer. When Damon actually begins to answer, he's interrupted by a fire alarm and the show ends. LOL!
Later that month, Kimmel and Affleck made fun of Damon for not having a Twitter account and using fax machines to communicate instead. Kimmel took to his account to joke, "Matt is prob too scared to get on twitter because no one likes him." Twitter TV retweeted this and began the #FaxingMattDamon hashtag. Ben, naturally, couldn't help but retweet the double-dig at his bestie's expense.
Damon responded by faxing Kimmel and Affleck a scan of his butt cheeks. "Dear Ben & Jimmy, Here's my fax. Love MD," he wrote in a message accompanying the shot, sent on Damon and Affleck's Pearl Street Films letterhead.
A few months later, Kimmel helped Damon celebrate his 44th birthday on Oct. 8, 2014, with another hilarious skit poking fun at the actor. The skit featured a young kid reading cue cards wearing a cardboard cut-out of a belly-baring, large-eared man—obviously Kimmel's vision of Damon—and telling his "story."
"Hello, everybody, I'm Matt Damon. Not only was I born, but I was also Bourne—Jason Bourne—I say jokes like these because I'm dumb," the kid quipped. "I grew up in Cambridge, Massachusetts, with my parents and brother. I wet the bed until I was 19. Well, that's my story, and thank you, Jimmy Kimmel, for finally putting me on your show!"
In January 2015, the feud continued in a skit that was actually aimed at making fun of the Deflategate scandal. While Damon was pretending to be the ball boy who deflated Tom Brady's footballs, he says he "acted alone."
Kimmel then walked into the scene and jumped on the opportunity to make fun of him saying, "Do you know why you acted alone? Because no one wants to act with you…because you suck."
In June, Kimmel continued his long streak of poking fun at Damon by making a parody of his upcoming movie, The Martian, using voiceovers to alter the original plot and make fun of the actor instead.
The late night host jokes, "You probably heard, Matt Damon has a new movie coming out. I know. It doesn't make any sense to me either. But it's a movie from director Ridley Scott about an astronaut who gets left behind on Mars and has to find a way to survive.
This all led up to Monday night's episode of Jimmy Kimmel Live! During his opening monologue, Damon interrupts Kimmel with a sign reading, "Next on Kimmel—Matt Damon."
During his appearance, Damon comes on to do couple's therapy with Kimmel in order to put their long, long feud behind them. The actor walks onto the set wearing a bald cap and playing Dr. Phil before the segment continues into their therapy session.
Eventually, the two set aside their differences and even hug it out…but we're guessing this "truce" won't last long. Especially because Kimmel will most likely run out of time for Damon yet again later tonight!
What do you think? Is the Kimmel vs. Damon feud finally over? Sound off in the comments below!
(Originally published on Sept. 29, 2015, at 9:41 a.m.)
Watch:
Kimmel Wants Kanye West to Read His Mean Tweets