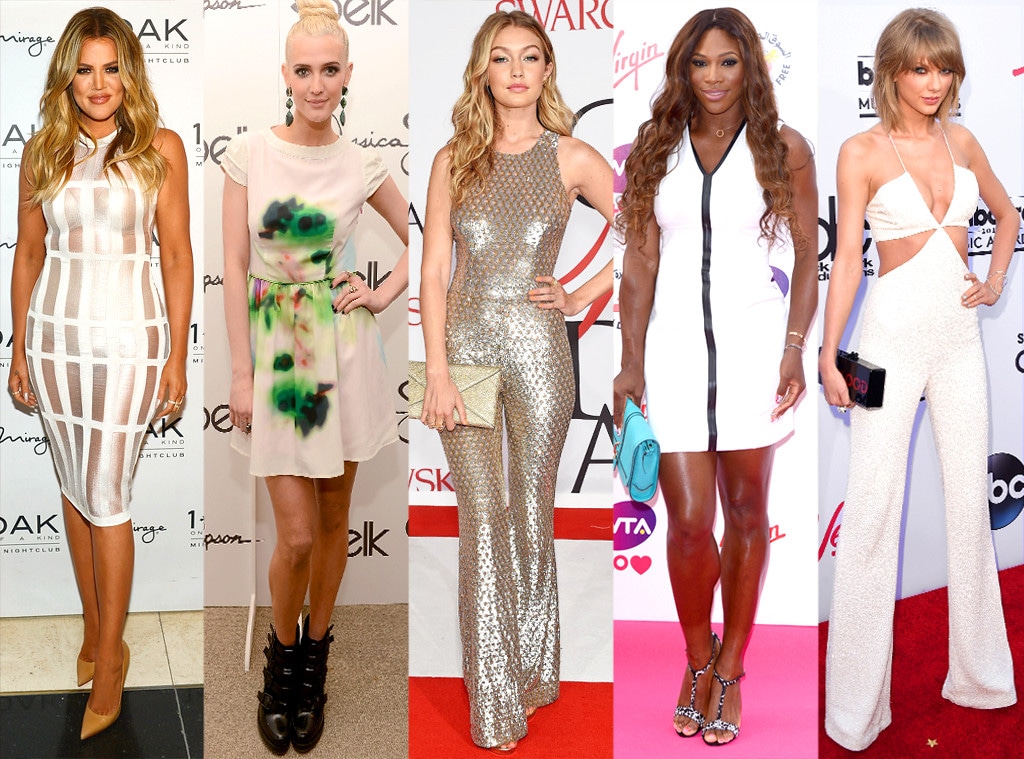 Getty Images
Have you ever seen Gigi Hadid, Wretched Internet?
Or models? Or magazines? Do you have a mom, a sister, a favorite aunt, a cousin, a female friend? Are you a woman? Do you know any women?
We'll be honest—it's hard to feel too real-woman inspired by the so-called "curvy models" of the world, the Gisele Bündchens, Lara Stones and Douetzen Kroes(es) who apparently broke down some sort of barrier because they have hips. But the fact that those women, of all people, have ever even been explained away as being the curvy girls holding down the fort for real women in the first place...
And now we're supposed to start categorizing Gigi as...what? One of them? As if Gisele, Lara and Doutzen are even "them" in reality?
Frazer Harrison/Getty Images for NYFW: The Shows
OK, so Gigi—now a Fashion Week veteran at 20—was apparently feeling so crappy this weekend thanks to some jerks on the Internet that she was inspired to stand up against the haters spewing negativity and defend her body type.
Her body type being...?
"Yes, I have boobs, I have abs, I have a butt, I have thighs, but I'm not asking for special treatment," she asserted herself, explaining her entrée into the fashion world alongside the size-00s that strut down runways and pose for ads on a daily basis.
In addition to her Instagram post, she also tweeted appreciation for the gorgeous bods on Serena Williams, Taylor Swift, Khloé Kardashian, Ashley Graham, Ashlee Simpson, Beyoncé, Rihanna and Kendall Jenner.
Sure, they're all among the most beautiful women in the world even on their worst days, but as Gigi was noting, they don't all wear the same size.
First of all, your body is your body, and therefore is just as it should be. Think about your health and what's on the inside, not what size you're wearing. Second, who decided that Gigi was some sort of niche model, built more like this one and not like that one? As she noted in her post, she fits in all the wee sample sizes, so it's not as though designers have to make special Gigi accommodations.
And third: What is wrong with people? Who is taking time out of his or her day—and we don't care if it's 15 seconds to tweet and your spell check renders your post illegible—to body shame?
Mark Metcalfe/Getty Images for David Jones
To deem someone too big or too small, too curvy or too bony? To say someone is undeserving of walking a runway or modeling clothes for a living? It's easy enough to avoid fashion magazines if they anger you for some reason, just as it should be easy to not tweet something awful. Sure, we've all wished at some point that we could drop weight or gain weight, and we wish people wouldn't tell us we look great and we know what they mean is thinner...
But isn't life enough of a project, do we really have to lash out at strangers because we're having a bad day? Body shaming of any kind and via any medium or platform is a heinous thing, not to mention the utmost example of telling someone, "It's not you, it's me."
At this point, it's difficult to discern whether the advent of Twitter, Tumblr, Instagram, et al., brought out the worst in people that was already there or created yet another sociological crisis for men and women—and young men and women, in particular—to deal with. Do those who go online to "share their opinions," i.e. try to make Gigi Hadid feel bad about herself, somehow think that they're getting the upper hand against a hot girl who otherwise would have bullied them on the schoolyard? The victimized becoming the perpetrator, even though the object of their aggression did nothing to them? 
Brian Rasic/LP5/Getty Images for TAS
We would conclude, pessimistically, that this is yet another case of the Twitterverse doing absolutely nothing for a woman's self-image at the end of the day. But at least in this case, Gigi's Instagram post attracted a lot of support online as well, and not just from her picture-perfect peer group.
So there's something to be said for the opportunity to build an instant community, it's just too bad that so often the fortress walls tend to go up only after the bitter hoi polloi start lobbing hate cannons.
No one, famous or otherwise, should have to go online and see a bunch of nasty remarks about their looks. It would be nice if a glance in the mirror is all that's needed to shut out the hateful comments. Alas, the negativity can add up, even if you're a supermodel in the making who's been in the pages of Vogue and is dating Joe Jonas.
But ultimately the world's opinion, be it positive or negative, doesn't matter. Gigi's (or anyone's) body is only as perfect as the person living in that skin feels it is—and those who go out of their way to chip away at another human being's self-esteem, to body-shame...
They should be ashamed of themselves.