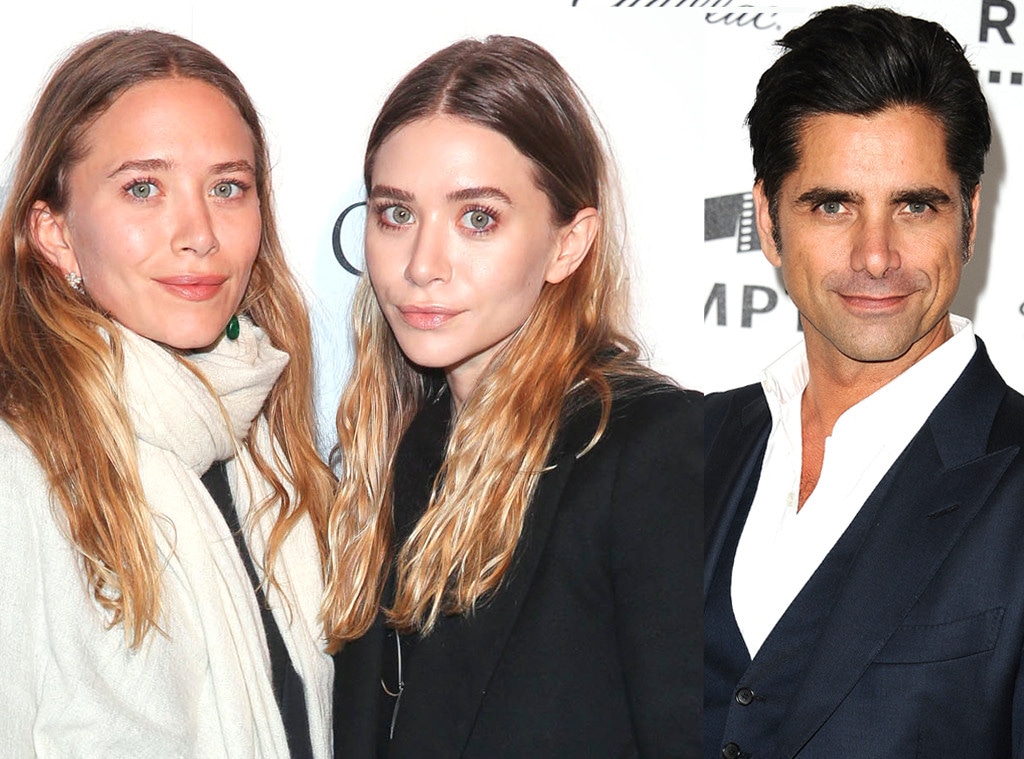 Rob Kim/Getty Images/Jason LaVeris/FilmMagic
There's nothing but love for Michelle Tanner, according to Uncle Jesse. Sorry, there's nothing but love for Mary-Kate Olsen and Ashley Olsen, according to John Stamos. The star of Fox's Grandfathered stopped by NBC's Today to discuss his new comedy and the talk obviously turned to Fuller House, Netflix's followup series to Full House, because when you have Stamos on your show, you want to talk about everything.
Fuller House follows Candace Cameron Bure's DJ Tanner-Fuller, newly widowed and taking care of three kids with the help of sister Stephanie (Jodie Sweetin) and Andrea Barber's Kimmy Gibbler. The first episode will be a reunion of sorts with Stamos, Bob Saget, Lori Loughlin, Dave Coulier, Blake and Dylan Tuomy-Wilhoit and more original stars appearing, but not the Olsens.
"They're fully welcome anytime, I love them and there was a lot of miscommunication in the press and stuff," Stamos told Matt Lauer. He's of course referring to the Olsens saying they learned about it from Stamos on Jimmy Kimmel Live and certain comments he made on Twitter after the fact. "I talked to them, I understood why they didn't want to come back. They just have big lives, they haven't acted in a while, but I love them dearly and they're always welcome on our show."
News first broke about the Olsen's participation in the show back in May.
"Although Ashley and Mary-Kate will not be a part of Fuller House, I know how much Full House has meant to them and they are still very much considered family," executive producer Robert L. Boyett said in a May 2015 statement about Mary-Kate and Ashley's absence from the reunion. "It has been exciting to see how they have built their professional careers, and I support their choice to focus on their fashion brands and various business endeavors. I appreciate their support and good wishes towards Fuller House."
Stamos said he's been trying to get a new Full House off the ground for six-seven years "because I knew how important the show was to people."
"It was cancelled a little premature, we were still going strong, we didn't even know the show was going to be cancelled until a few weeks before, we didn't even do a finale of Full House," he said. "And for years I've been trying to get this going, I've realized how important it is to people."
Look for Stamos to balance his duties on Fuller House—he's an executive producer and recurring guest star—with his full-time gig on Grandfathered.
"I think people will be very happy, it's very sweet, it has a lot of the same elements as the original did," he said of Fuller House.
Grandfathered premieres Tuesday, 8 p.m. on Fox. Fuller House premieres on Netflix in 2016.
Watch:
Candace Cameron Bure Dishes New "Fuller House" Details