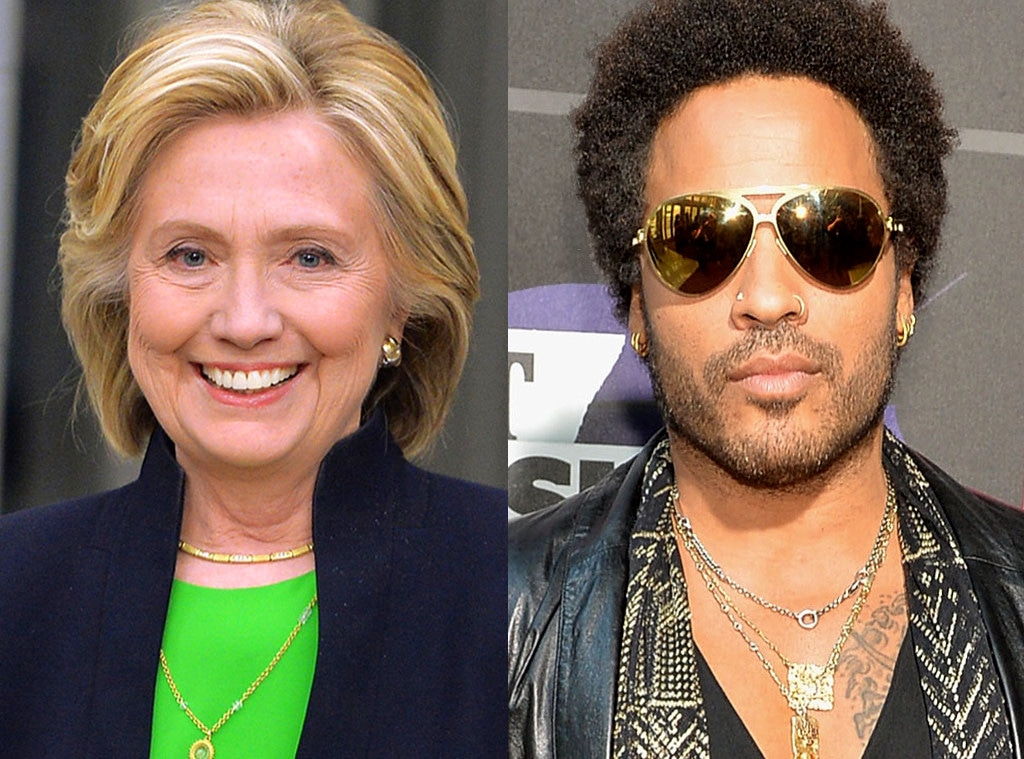 Getty Images; WireImage
Hillary Clinton was a bit confused when she accepted Lena Dunham's offer to do an interview for her Lenny newsletter, thinking she'd be chatting with Lenny Kravitz rather than the Girls actress.
In a hilarious mock promo for the interview, courtesy of Funny or Die, Dunham says, "Madam Secretary, I cannot tell you what an honor it is for me and for all the Lenny readers to be able to speak to you in this way."
Clinton responds with a confused facial expression, "I thought this was an interview with Lenny Kravitz."
Of course, Dunham couldn't help but remind the presidential candidate about Kravitz's latest mishap—when his pants split on stage and gave the audience and photographers quite a view.
"Did you see the footage where his pants split?" Dunham asks the former Secretary of State.
"No, I missed that," she responds with a look of interest.
Dunham goes on to tell Clinton what happened, "I mean… his stuff fell out of his pants."
This piques Clinton's interest even more. She asks, "Yeah? Do you think I could get that on YouTube?" Dunham informs her that she can, indeed, to which Clinton says, "Good. I'll look for that."
While the video is hilarious, the full-length interview between the two women dives into much more important topics than Kravitz's genitals (LOL).
Dunham actually got Hillary to open up a bit about her marriage with Bill Clinton and how she "denied him twice" before she actually decided to get engaged.
"I was terrified about losing my identity and getting lost in the kind of wake of Bill's force-of-nature personality," she revealed  to Dunham. "I actually turned him down twice when he asked me to marry him… [I worried] that I wouldn't necessarily know who I was or what I could do if I got married to someone who was going to chart a path that he was incredibly clear about."
However, she admits that she eventually said yes and "took a leap of faith," which she candidly says "most marriages are."
Dunham's full interview with Hillary will publish on Lenny on Sept. 29.
Watch:
Maggie Gyllenhaal Is Inspired By Hillary Clinton