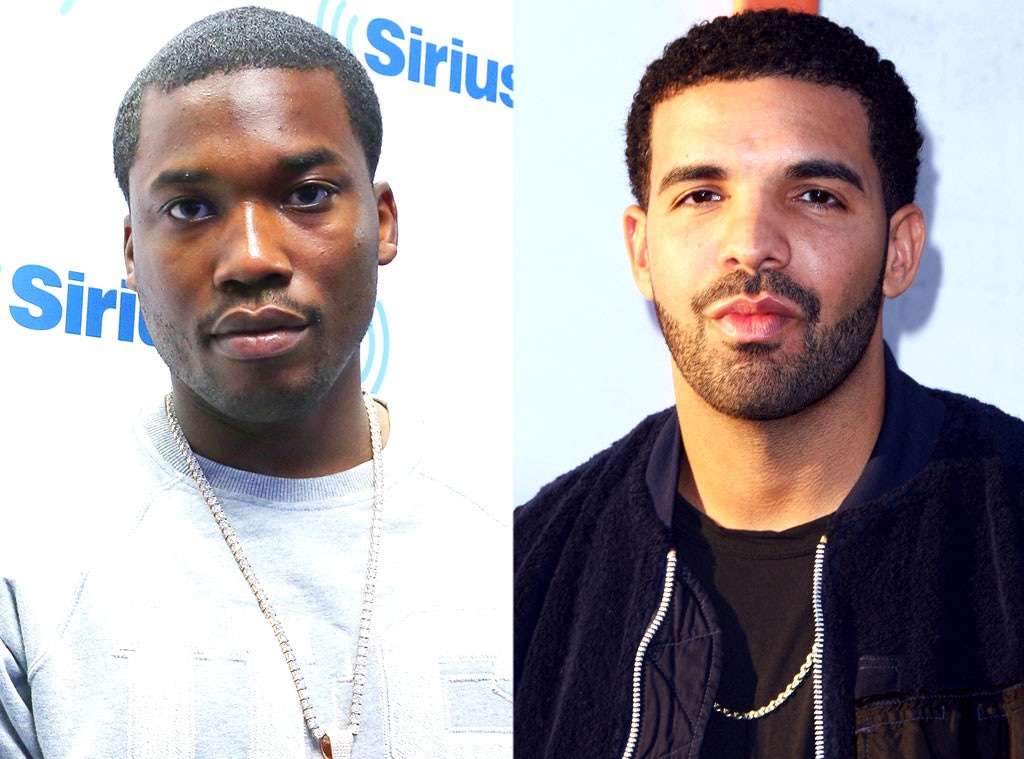 Rob Kim/Getty Images, Rob Kim/Getty Images
Drake sat down with The Fader for what is not only his first magazine cover story since Rolling Stone in February 2014—after which he swore to never do another magazine interview again—but also for the first time to discuss his feud with Meek Mill from earlier this summer and all the ghostwriting accusations that came with it.
To recap, the feud with Meek Mill began when he alleged that Drake didn't write the verse they collaborated on for "R.I.C.O." This was soon followed up by New York's Hot 97 DJ Funkmaster Flex leaking a reference track he supposedly received from someone in Drake's camp for "10 Bands," which found Quentin Miller spitting Drake's lyrics on the song and seemed to prove he uses outside writers for his music.
But before Fader could even address the subject with Drake, he made sure to do it himself.
"I'm just gonna bring it up 'cause it's important to me," he recalls of the day he found out Flex was leaking his reference tracks. "I was at a charity kickball game—which we won, by the way—and my brother called me. He was just like, 'I don't know if you're aware, but, yo, they're trying to end us out here. They're just spreading, like, propaganda. Where are you? You need to come here.'"
He continues, "So we all circled up at the studio, and sat there as Flex went on the air, and these guys flip-flopped [about how] they were gonna do this, that, and the third."
Drake says he recorded "Charged Up" that very night and released it the next day.
"Given the circumstances, it felt right to just remind people what it is that I do," he explained, "in case your opinions were wavering at any point."
But then when Meek Mill, Flex and everyone else who had been dissing him never responded to the song, Drake became frustrated and confused.
"This is a discussion about music, and no one's putting forth any music?" he questioned, irritated. "Nobody told you that this was a bad idea, to engage in this and not have something? You're gonna engage in a conversation about writing music, and delivering music, with me? And not have anything to put forth on the table?"
After Meek continued to bash Drake while on tour with Nicki Minaj (but had yet to release a response dis track), the "Madonna" rapper decided to end it once and for all. He released "Back to Back" and let Twitter do the rest of the talking, ripping Meek apart and handing all the praise over to Drake.
Though Drake was taking a victory lap over Meek (and going for the kill at OVO fest), he still had yet to address the allegations about ghostwriting.
"I need, sometimes, individuals to spark an idea so that I can take off running. I don't mind that. And those recordings—they are what they are. And you can use your own judgment on what they mean to you."
He admits that he's willing to be the person who sparks the conversation about originality in hip-hop music, alluding to the idea that lots of rappers do the same thing.
"If I have to be the vessel for this conversation to be brought up—you know, God forbid we start talking about writing and references and who takes what from where—I'm OK with it being me," he says.
"It's just, music at times can be a collaborative process, you know? Who came up with this, who came up with that—for me, it's like, I know that it takes me to execute every single thing that I've done up until this point.And I'm not ashamed."
Watch:
What's Going on With Drake and Serena Williams?