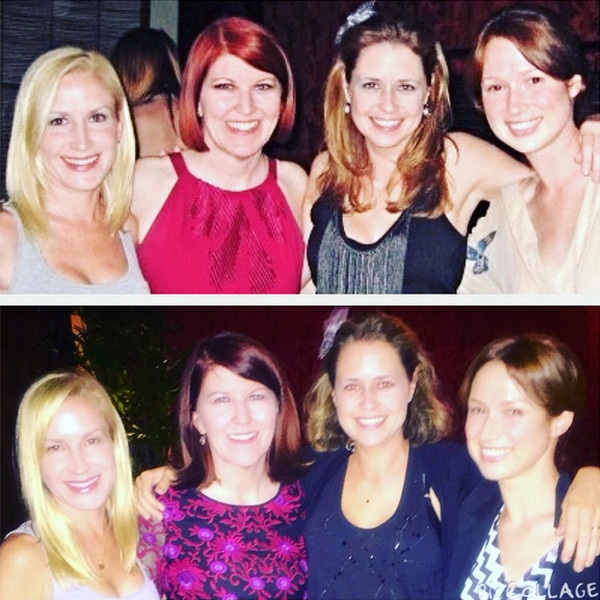 Jenna Fischer Instagram
The ladies of The Office are really pulling at our heartstrings today…not to mention, giving us major nostalgia!
Jenna Fischer took to Instagram to share a photo that she, Angela Kinsey, Kate Flannery and Ellie Kemper recreated from her bachelorette party five years ago.
"Five years ago, these crazy ladies helped me celebrate my bachelorette," Fischer captioned the awesome photo. "Last night, we decided it was time to recreate the photo."
She adds, "It was a great dinner with great women. #officeladiesreunite #5yearslater #sameheadband @angelakinsey @therealkateflannery."
But this wasn't the only Office reunion lately…several of the cast members reunited during the Emmys weekend celebrations.
Fischer met up with Brian Baumgartner—who played Kevin Malone—for a sweet selfie at a pre-Emmys party that she captioned, "Office reunion number one."
Then, she shared another pre-Emmys party photo with her BFF Kinsey…and a fiat?
Then, she shared another pre-Emmys party photo with her BFF Kinsey…and a fiat?
"Office reunion number two. With a Fiat," she captioned the cute pic.
The ladies enjoyed some late-night munchies after the party, nomming down on a burger and fries, which Fischer posted a photo of: "I gotcha burger for burger," she wrote. "@angelakinsey #actresseswhoeatburgers."
The two real-life best friends also joined forces again for all the Emmy Awards after-parties on Sunday night, snapping several adorable pics and hashtagging them all "#bffemmysparties."
They looked gorgeous in two party-perfect dresses. Fischer donned a black and white, sleeveless floral frock while Kinsey opted for a bright red quarter-sleeved mini.
The two eventually caught up with David Denman—who played Roy Anderson—while hitting up the HBO after-party for yet another Office reunion.
"Office reunion number three! #bffemmyparties," Fischer wrote.
The Office may have gone off the air two years ago, but it looks like all these co-stars will always remain close-knit!
Watch:
John Krasinski and Jenna Fischer Role Play