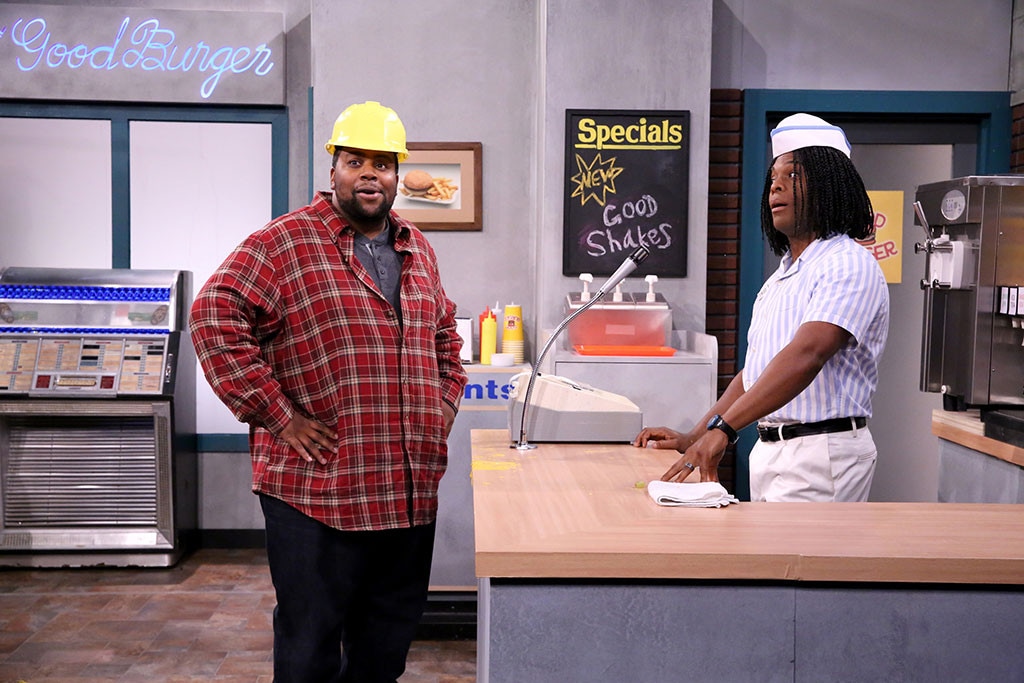 Douglas Gorenstein/NBC
Kel Mitchell and Kenan Thompson gave fans the surprise of a lifetime Wednesday when they staged a Good Burger reunion on The Tonight Show. Fans' desires for reunions, reboots and more have been at an all-time high lately, so it's no surprise that viewers freaked out as soon as they saw Kel don that famous wig.
Kel talked to E! News about his trip down memory lane and by the sound of it, he was just as excited as fans were to be able to reboot his famous character. All they were waiting for, it turns out, was a good enough platform on which to do it before they could reunite.
"I'm still riding high off [the reunion]," Kell told E! News. "That was so fun to be onstage with Kenan again. We're even still texting each other still excited about it."
As fans of Jimmy Fallon's nightly show, they knew they found the right spot, especially after seeing his Saved by the Bell reunion.
"We've been wanting to get back together, " he explained. "It was just about the right project...it felt like home."
But with so many great characters from All That and Kenan & Kel, creator Dan Schneider and the cast had to decide which bit to revive. After some serious debating, they all landed on our favorite fast food employees, which we totally support because who doesn't love reciting, "Welcome to Good Burger home of the Good Burger can I take your order?"
From the second they started preparing backstage, Kel says it was like it was the '90s all over again.
"It was cool. It was like we were right back into it with our characters coming up with even funnier stuff to do and just cracking up together and looking at each other in the outfits," he said. "When I put on [the wig] it was like it had never stopped."
While Kenan and Kel satiated fans' appetite for a reunion—and a great one at that—we need more because we're greedy TV watchers. Is that an option? Kel hints to us that it might be! Now starring in Game Shakers on Nickelodeon, Kel explains that we just "have to wait and see."
"We have some great surprises coming through," he teased.
Oh, and if you're wondering if a certain someone still loves a certain beverage, he said in his best impression, "Kel loves orange soda! I do I do I do-ooo."
But there's a twist: "Now I do zero-calorie orange soda."
We'll cheers to that!